31 May 2018
World Nuclear News
Japan's Toshiba Corporation is to withdraw from the project to construct two of its advanced boiling water reactors (ABWRs) as units 3 and 4 of the South Texas Project (STP) in the USA. The company said the project, which has failed to find investors, is no longer financially viable.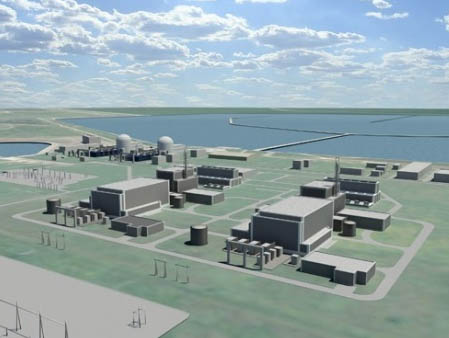 An impression of how the two ABWRs would have appeared at STP (Image: STPNOC)
Toshiba – through its US-based wholly-owned subsidiary Toshiba America Nuclear Energy Corporation (TANE) – and US utility NRG Energy founded Nuclear Innovation North America (NINA) in 2008 to promote the use of Toshiba's ABWR in North America. A combined construction and operating licence (COL) application for two ABWRs at STP, where NRG Energy already operates two pressurised water reactors, had already been submitted to the Nuclear Regulatory Commission (NRC) in 2007. In February 2009, TANE signed an engineering, procurement and construction (EPC) contract with STP Nuclear Operating Company, acting as an agent for NINA, and thereby became the main contractor for STP units 3 and 4. However, in 2011 NRG Energy announced that it would be withdrawing from the project and writing down its USD331 million investment in NINA. Since then, Toshiba has bankrolled the licensing process.
The NRC notified NINA in late 2011 that the corporation did not meet the foreign ownership requirements and would therefore be ineligible to receive a licence; however NINA subsequently filed revisions to its COL application and a "negation action plan" to address the issue. The NRC told NINA that it will continue to review the remaining portions of the COL application while the company "considers its options", but will not issue a licence until the foreign ownership requirements are met. The NRC Atomic Safety Licensing Board has since ruled that Toshiba's formal 10% ownership of NINA was acceptable and the COLs for STP 3 and 4 were eventually granted in February 2016.
Toshiba announced today that its board had decided TANE will withdraw from the project. "Toshiba will proceed with the necessary procedures for the withdrawal with all related parties, and target its early completion," the company said. It expects to complete its withdrawal by the end of this year.
"The economic circumstances supporting the project have declined as a result of significant decreases in electricity rates due to the shale gas revolution, and the trend to tighter regulation of nuclear power plants in the aftermath of the Great East Japan Earthquake," Toshiba said. "Under current and expected economic conditions, further development of STP units 3 and 4 has ceased to be financially viable. In addition, maintaining the project incurs continuous costs, and no investors have expressed an interest in participation." It continued, "In these circumstances, there is no clear pathway to securing profitability and Toshiba has decided to completely withdraw from the project. The company has resolved to cancel all contracts related to NINA, the EPC contract and deferred loans, and to forgive loans under loan contracts."
Toshiba said its decision to exit the STP units 3 and 4 project is in line with its basic policy "to eliminate risk from the overseas nuclear power business, particularly from construction-related cost overruns in nuclear power plant construction projects, by withdrawing from projects where Toshiba Group serves as prime contractor or has to bear risk from construction-related cost overruns".
The company said that, as of today, it has claims of USD641 million and an equity interest of USD147 million in the US ABWR project. However, it noted that it recorded allowances for most of all bad debt and impairment loss by FY2017, which ended 31 March 2018, and the impact on business results in FY2018 "will be minimal".
Researched and written
by World Nuclear News
Fair Use Notice
This document contains copyrighted material whose use has not been specifically authorized by the copyright owner. SEED Coalition is making this article available in our efforts to advance understanding of ecological sustainability, human rights, economic democracy and social justice issues. We believe that this constitutes a "fair use" of the copyrighted material as provided for in section 107 of the US Copyright Law. If you wish to use this copyrighted material for purposes of your own that go beyond "fair use", you must obtain permission from the copyright owner.