January 09, 2019
State Of Washington Lambastes Trump Administration Plan To Reclassify Nuke Waste
The state has objected to a federal proposal to reclassify millions of gallons of radioactive waste as less dangerous.
SPOKANE, Wash. (AP) — The state of Washington said Tuesday it opposes a federal proposal to reclassify as less dangerous some radioactive waste on a site in the state that contains the nation's largest supply because it fears much of the waste will be left in the ground.
The state this week filed its objections to a Trump administration plan to reclassify millions of gallons of waste stored in underground tanks at Hanford Nuclear Reservation. The objections were accompanied by a letter from Gov. Jay Inslee and Attorney General Bob Ferguson.
The U.S. Department of Energy is seeking to reclassify a large percentage of the waste as lower-level waste. That would allow treatment and disposal options that would not guarantee long-term protections.
---
July 19, 2018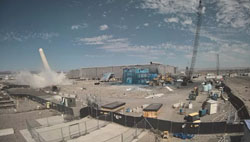 Here's What Happened When The Government Lost Control Of The Biggest Nuclear Cleanup In The US
"This is 2018. We shouldn't still be contaminating people with plutonium," said a worker at the Hanford site in eastern Washington.
As November turned to December, rumors spread through the western corner of the former nuclear weapons plant in eastern Washington. Bo-J and his anxious coworkers at the old Hanford plant would talk on lunch breaks about radioactive particles showing up on gear, and newly roped-off areas of contamination.
"There was talk, not real clarification," Bo-J told BuzzFeed News. "Next thing you know — boom! — a stop-work."
On Dec. 13, 2017, after the gear on half a dozen employees had tested "hot," labor unions refused to keep working, and demolition ground to a halt. It was the beginning of one of the worst contamination events at Hanford, a sprawling site that once produced the plutonium for the bomb dropped on Nagasaki and whose cleanup will take most of this century.
---
May 31, 2018
Toshiba scraps project to build ABWRs in Texas
Japan's Toshiba Corporation is to withdraw from the project to construct two of its advanced boiling water reactors (ABWRs) as units 3 and 4 of the South Texas Project (STP) in the USA. The company said the project, which has failed to find investors, is no longer financially viable.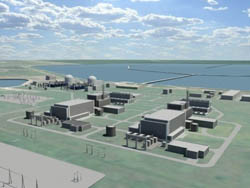 Toshiba – through its US-based wholly-owned subsidiary Toshiba America Nuclear Energy Corporation (TANE) – and US utility NRG Energy founded Nuclear Innovation North America (NINA) in 2008 to promote the use of Toshiba's ABWR in North America. A combined construction and operating licence (COL) application for two ABWRs at STP, where NRG Energy already operates two pressurised water reactors, had already been submitted to the Nuclear Regulatory Commission (NRC) in 2007. In February 2009, TANE signed an engineering, procurement and construction (EPC) contract with STP Nuclear Operating Company, acting as an agent for NINA, and thereby became the main contractor for STP units 3 and 4. However, in 2011 NRG Energy announced that it would be withdrawing from the project and writing down its USD331 million investment in NINA. Since then, Toshiba has bankrolled the licensing process.
---
06/07/2018
A Letter from Tim Powell: Toshiba withdraws from STP Units 3 and 4
Bay City Sentinel
Toshiba Corporation announced May 31 that Toshiba America Nuclear Energy Corporation is withdrawing from the effort to build South Texas Project Units 3 and 4.
This decision was based on their belief that under expected economic conditions, further development of STP Units 3 and 4 has ceased to be financially viable.
---
March 14, 2018
Orano, WCS Aim to Revive Spent Fuel Storage Project
Nearly a year after putting it on ice, Waste Control Specialists aims to revive its application for a U.S. Nuclear Regulatory Commission license to build and operate a facility for consolidated interim storage of used fuel from commercial nuclear power reactors. It is doing so in a joint venture planned with Orano USA.
Establishment of the joint venture and a formal request to restart the NRC review are expected in the second quarter of this year, said Jeffery Isakson, vice president of business operations at Orano subsidiary TN Americas, who is working on the spent fuel storage project.
The plan remains to build a facility on Waste Control Specialists' property in Andrews County, Texas, to temporarily hold up to 40,000 metric tons of spent fuel until the Department of Energy finds a permanent home for the radioactive waste.
---
February 1, 2018
New ownership could revive Texas waste plan
Waste Control Specialists LLC, after months in corporate limbo, may look at restarting its push to store high-level radioactive waste in West Texas.
That's because an investment affiliate of J.F. Lehman & Co. recently acquired WCS, ending the company's hazy status under Valhi Inc.
WCS asked the Nuclear Regulatory Commission last year to suspend — temporarily — the review of its high-level waste proposal, citing the cost and its limited financial resources. The company was waiting to see if a deal to sell WCS to EnergySolutions, a well-known industry player, would close. The transaction fizzled after a judge blocked it.
---
January 26, 2018
WCS is bought by private equity firm
Waste Control Specialists, which operates a low-level radioactive waste storage facility in Andrews, has been sold, according to a company press release.
WCS was sold by Valhi Inc. to J.F. Lehman & Co., a middle-market private equity firm focused on the government, defense, aerospace and maritime sectors.
WCS lost an antitrust lawsuit in June after the U.S. District Court of Delaware ruled in favor of the Justice Department against a merger with EnergySolutions, a Utah-based company that specializes in decommissioning nuclear power plants.
---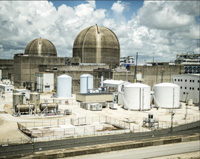 September 29, 2017
Trumpf administration renews license of South Texas nuclear plant
The U.S. Nuclear Regulatory Commission has renewed the license for the South Texas Project. The nuclear power plant provides electricity to San Antonio, Austin and many other area communities.
In an order issued on Thursday, the NRC approved the South Texas Project to remain in operation for an additional 20 years.
Located just outside of Bay City and managed by the STP Nuclear Operating Co., the nuclear power plant is owned by Houston-based NRG Energy, San Antonio-based CPS Energy and Austin-based Austin Energy.
---
Tuesday, August 29, 2017
As Historic Flooding Grips Texas, Groups Demand Nuclear Plant Be Shut Down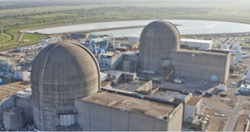 As record-breaking rainfall and unprecedented flooding continue to batter the greater Houston area and along the Gulf coast on Tuesday, energy watchdogs groups are warning of "a credible threat of a severe accident" at two nuclear reactors still operating at full capacity in nearby Bay City, Texas.
Three groups—Beyond Nuclear, South Texas Association for Responsible Energy, and the SEED Coalition—are calling for the immediate shutdown of the South Texas Project (STP) which sits behind an embankment they say could be overwhelmed by the raging flood waters and torrential rains caused by Hurricane Harvey.
---
What Could Go Wrong
Deadly High-Level Radioactive Waste: Health and Safety Concerns About Storage and Disposal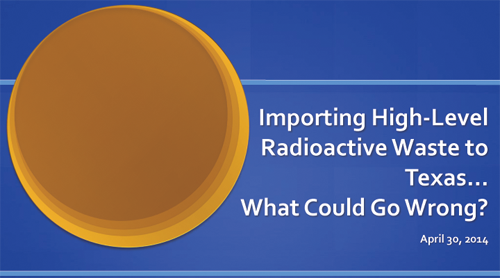 Austin, TX – A nuclear expert, a medical doctor, and an attorney joined public interest advocates to address the health and safety risks of bringing the hottest of nuclear reactor waste, the spent nuclear fuel rods, to Waste Control Specialists' (WCS) dump in Andrews County, Texas or another Texas site. The legal issues involved were discussed as well.
Governor Perry and Speaker Straus are pushing consideration of importing dangerous radioactive waste for storage and possibly disposal in Texas, and the House Environmental Regulation Committee will hold a hearing on the issue in the near future.
Related material:
---
Examining the fallout from Texas nuclear waste proposal
Texas House Speaker Joe Straus recently raised eyebrows among environmentalists and individuals connected to the nuclear waste industry. Unexpectedly opening the possibility of making Texas home to America's supply of high-level radioactive waste will do that.
The United States lacks a permanent disposal site for 68,000 metric tons of spent nuclear fuel after the Obama administration decided in 2010 to halt funding for the multimillion-dollar Yucca Mountain geologic repository in Nevada. Straus has instructed legislators to determine whether Texas can be the answer and "make specific recommendations on the state and federal actions necessary to permit a high-level radioactive waste disposal or interim storage facility in Texas."
Read more…
Related WIPP Material:
News Stories:
---
Greg Palast: Fukushima Texas
An excerpt from his great book – Vultures' Picnic, In Pursuit of Petroleum Pigs, Power Pirates, and High-Finance Carnivores

 

 
---
August 22, 2012
Nuclear power requires Uranium mining, which threatens some Texas communities.