---
February 1, 2018
French regulator highlights safety risks at nuclear reactors globally
Waste Control Specialists LLC, after months in corporate limbo, may look at restarting its push to store high-level radioactive waste in West Texas.
That's because an investment affiliate of J.F. Lehman & Co. recently acquired WCS, ending the company's hazy status under Valhi Inc.
WCS asked the Nuclear Regulatory Commission last year to suspend — temporarily — the review of its high-level waste proposal, citing the cost and its limited financial resources. The company was waiting to see if a deal to sell WCS to EnergySolutions, a well-known industry player, would close. The transaction fizzled after a judge blocked it (Energywire, June 22, 2017).
---
The Richest Little County
Measured per capita, the residents of Loving County, Texas, population 84, are amongst the nation's wealthiest


Photographs for TIME by Robert Nickelsberg
Enter Time Manazine's Website for Pictures
---
---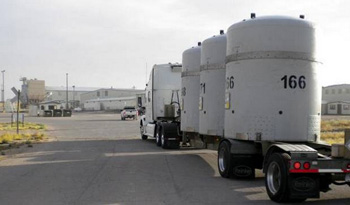 18 June 2014
Stealthily loading West Texas up with radioactive waste
Waste Control Specialists is in talks to start receiving depleted uranium, and it wants to triple its West Texas site's size.
The nuclear waste disposal site operated by Waste Control Specialists in West Texas is steadily morphing away from its original mission as a depository for very limited quantities of low-level radioactive items from Texas and Vermont. Today, the site is taking on much greater quantities and higher levels of radioactive waste from multiple states, and its owner wants permission to dramatically expand operations.
Read the Dallas Morning News Editorial
---
May 17, 2013
Bad Radioactive Waste Bill Increases Threats to Texas While Rewarding a Major Perry Donor
---
Recent Monitoring Well Data
---
August 2, 2012
Compact Commission letter – Aug. 2, 2012 and highlighted Hazardous Materials Route Registry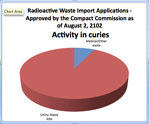 We are concerned that shipments radioactive waste to Texas are being allowed to move forward when there is still water in monitoring wells in the area of the WCS Compact Facility site. Concerns about water contamination are very real, serious enough that three TCEQ employees resigned over the issue. We also are concerned that no routes have been designated for low-level radioactive waste in Texas, although there is a legal requirement to do so. At least 12 other states have designated routes for radioactive waste.
The Registry attached to our letter shows that there are no designated routes or restricted routes for radioactive waste in Texas.
---
June 26, 2012
---
May 7, 2012
A District Court ruled today that Texas' environmental agency should have allowed a contested case hearing prior to licensing WCS low level radioactive waste dump in West Texas
Read More … Public Citizen Texas Press Release
---
Waste Control Specialists – Radioactive Waste Dump
April 16, 2012
Burnam Requests AG Ruling on Disclosure of TCEQ Documents Related to Possible Radioactive Contamination
TCEQ preparing to allow site to open despite massive water presence underground at site in violation of license terms
(Austin, Texas) ­ Today, Rep. Burnam called on the Executive Director of the Texas Commission for Environmental Quality (TCEQ) to protect public health and safety by not allowing the low-level radioactive waste disposal site in West Texas to open until key questions are answered about the presence of groundwater inside the 100 feet buffer zone around the facility.
The private company licensed to operate the facility, Waste Control Specialists (WCS), which stands to reap millions in profits in disposal fees once the site is operational, is pressing for the agency to allow the site to open even though documents show significant groundwater present at the site, confirming the worst fears of TCEQ scientists that objected to issuance of the license five years ago due to the likelihood of groundwater intrusion at the site in future years.
---
Published on Apr 8, 2012
Harold Simmons has given Millions of dollars to GOP candidates so that he can continue to dump nuclear waste into an aquifer that supplies 1/3 of the water that irrigates land in America.

---
Issues with Radioactive Waste Legislation
Stop Texas from Becoming the Nation's Radioactive Waste Dump!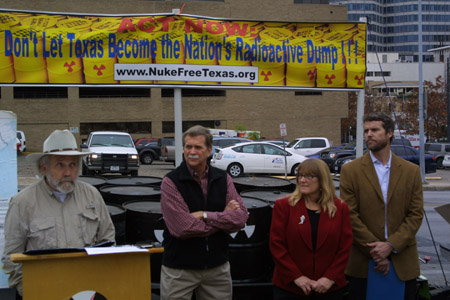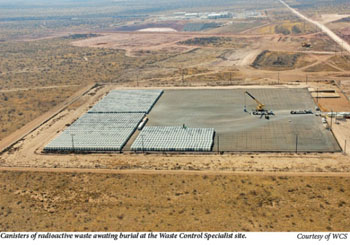 Texas is at risk of becoming the nation's radioactive dumping ground. Governor Perry knew that Texans don't want to be dumped on, and kept this issue out of the spotlight during election season. Now that the elections are over and the winter holiday season is underway, the Texas Low-Level Radioactive Waste Disposal Compact Commission is rushing to approve rules that would open Andrews County in West Texas up to radioactive waste from around the country.
Loopholes abound when it comes to laws regarding radioactive waste. While excluding radioactive waste from international sources, the proposed rule doesn't require processors to document the origin of waste that they handle. International radioactive waste could get re-labeled as Tennessee waste if it was processed there. Texas could become the international radioactive waste dumping ground as well.
Learn more and take action now…
---
Andrews County is poised to become the nation's largest and perhaps one of the most deadly radioactive and hazardous waste dumps, mainly for nuclear power and weapons waste.
Factsheets & Reports: