Mon, Nov 11 2013
Nuclear Street News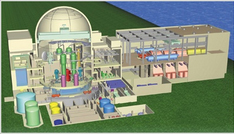 As Mitsubishi Heavy Industries turns its focus to restarting nuclear plants in Japan, the maker of the APWR and utility Luminant have shelved plans to build new reactors in Texas.
APWR rendering. Source: NRCIn 2008, Luminant applied for a combined license to add two reactors to the Comanche Peak nuclear plant near Fort Worth. According to the Nuclear Regulatory Commission, the project had been issued a final environmental impact statement, and a decision on the license was tentatively scheduled for 2015.
The NRC is also considering a license for the APWR design, but on Friday the Dallas Morning News reported that MHI would "slow the development of their design control document by several years." Consequently, Luminant will suspend its COL application, although the company is not withdrawing it entirely. A Luminant statement quoted by the Morning News also noted that the utility "understand(s) the current economic reality of low Texas power prices driven in large part by the boom in natural gas."
The 1,620 megawatt APWRs would join two other pressurized water reactors at the site licensed in the early 1990s.
Fair Use Notice
This document contains copyrighted material whose use has not been specifically authorized by the copyright owner. SEED Coalition is making this article available in our efforts to advance understanding of ecological sustainability, human rights, economic democracy and social justice issues. We believe that this constitutes a "fair use" of the copyrighted material as provided for in section 107 of the US Copyright Law. If you wish to use this copyrighted material for purposes of your own that go beyond "fair use", you must obtain permission from the copyright owner.