Cache of spent fuel rods grows at Comanche Peak as U.S. disposal stalemate drags on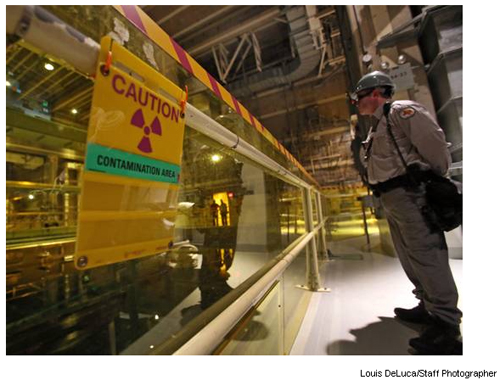 The Comanche Peak nuclear power plant near Glen Rose uses specially designed cooling pools to store its spent uranium. With no permanent storage site designated by the federal government and Comanche Peak's pools nearing capacity last year, workers began moving the rods into concrete casks for storage a half mile from the reactors.
03 August 2013
By JAMES OSBORNE Staff Writer
josborne@dallasnews.com
Dallas Morning News
GLEN ROSE — On a reinforced slab of concrete half a mile from Comanche Peak's two nuclear reactors, armed guards in towers keep constant watch over rows of 19-foot-tall concrete casks.
Inside, uranium rods that once powered North Texas are in the earliest stages of a cooling process that could span hundreds of thousands of years. Technically, the casks are supposed to be headed to a U.S. Department of Energy facility.
But as the search for a national disposal site drags into its third decade, stockpiles of highly radioactive uranium continue to build up at Comanche Peak and nuclear reactors across the country.
With no solution in sight, Luminant, the power generating company that owns Comanche, has designed the storage area to take all the plant's spent fuel until its license expires two decades from now and hold it into perpetuity.
"The casks will sit here, at least until the federal government decides to create a permanent storage facility," said Craig Montgomery, the plant's project engineering manager.
Four years after a long-planned underground facility at Nevada's Yucca Mountain was shelved amid fierce opposition in that state, the process of finding a repository for the nuclear power industry's spent fuel is back at square one.
At a U.S. Senate hearing last week, Natural Resources and Energy Committee Chairman Ron Wyden, D-Ore., urged action on bipartisan legislation to bypass the Energy Department and create a new federal agency to oversee the task.
"It's been three decades," he said. "If anything, there is less confidence now in the government's ability to solve these problems."
75,000 tons
By the latest count, there are more than 75,000 tons of spent uranium stored at nuclear power plants around the country, dating to the early days of the industry in the 1960s.
Comanche Peak lies on a manmade lake about 80 miles southwest of Dallas. It is, along with the South Texas Project near Bay City, one of two nuclear plants in Texas. At only 23 years in operation, it is also one of the younger facilities in the country.
Energy Future Holdings is the parent company of Luminant.
The plant was designed to store its spent rods in specially designed cooling pools until the federal government eventually retrieved them. But with those pools nearing capacity last year, workers began slowly moving the used rods into concrete casks for storage. The casks are so heavy it takes a custom-built transporter two hours to move one less than a mile.
The ad-hoc system is in place at most every plant in the country. And while far from ideal, it poses no particular safety risk, said Mark Deinert, a nuclear engineering professor at the University of Texas at Austin.
"Eventually you will decommission the facilities, and you don't want to leave [radioactive waste] in 64 different sites around the country," he said. "In principle, those casks are really safe storage places. The stuff is really well contained from the environment."
Federal costs
But keeping the nuclear waste at the plants could cost the federal government tens of billions of dollars.
In the early 1980s, Congress passed legislation establishing an industry-backed fund to build a disposal site and stating that within 15 years the federal government would begin picking up the spent fuel. When the deadline came and went, the power companies sued, claiming breach of contract, and in some cases have won large judgments.
So far, the federal government has spent close to $3 billion paying off the power plants. They will probably spend $17 billion more, U.S. Sen. Lisa Murkowski, R-Alaska, said at Tuesday's hearing.
"The dry storage casks are a million dollars apiece, and we have to load them and guard them indefinitely," said Jay Silberg, a Washington attorney who represented power companies in some of the litigation. "It's appalling how long this has been hanging around."
The legislation introduced last month hopes to end that impasse, but skepticism is rife.
Temporary sites
Already, interests groups are picking the bill apart. Environmentalists are opposed to a provision creating temporary storage sites for the spent fuel — sites they fear will turn into permanent facilities by default.
"Waste could be shipped around the country to some parking lot somewhere with no sense there's going to be a permanent solution," said Michael Mariotte, executive director of the Nuclear Information and Resource Service, an anti-nuclear advocacy group.
"Once the waste is somewhere, no one else is going to want it."
And then there's the larger issue of who would ever agree to house a permanent disposal site. Scientists believe spent uranium rods could produce radiation for hundreds of thousands of years, through earthquakes and changes in government and scientific understanding.
Attempting to avoid a repeat of Yucca Mountain, the crafters of the new federal legislation have given local and state authorities full veto power over any proposed disposal site. There is hope economic incentives could bring some communities to the table, but no one is certain.
"I'm not sure how that's going to work," Silberg said when asked about the local approval provision. "That [the legislation] got drafted at all is kind of an accomplishment."
Follow James Osborne on Twitter at @osborneja.
Fair Use Notice
This document contains copyrighted material whose use has not been specifically authorized by the copyright owner. SEED Coalition is making this article available in our efforts to advance understanding of ecological sustainability, human rights, economic democracy and social justice issues. We believe that this constitutes a "fair use" of the copyrighted material as provided for in section 107 of the US Copyright Law. If you wish to use this copyrighted material for purposes of your own that go beyond "fair use", you must obtain permission from the copyright owner.