April 16, 2013

By Asher Price, Staff
Austin American-Statesman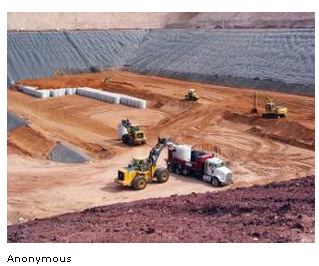 In this Oct. 14, 2009, photo provided by Waste Control Specialists, canisters filled with uranium byproduct waste are placed into a burial pit at a site in Andrews County. People living nearest to the site would be barred from challenging license amendments sought by the company under a Senate bill that could be voted on as early as Wednesday. (AP Photo/Waste Control Specialists, File)
The Sierra Club's efforts to thwart a radioactive waste dump in West Texas could be derailed if a Panhandle state senator succeeds in blocking residents of New Mexico from challenging it in Texas courts.
The proposal by state Sen. Kel Seliger, R-Amarillo, might get a vote on the Senate floor this week. It could effectively cut off the Sierra Club's challenge to a radioactive waste site in Andrews County, just miles from the New Mexico border, owned and operated by Waste Control Specialists.
The Sierra Club sued in 2009, asking for a contested case hearing on behalf of its members who live in Eunice, N.M., just west of the state line.
Contested case hearings amount to minitrials in which members of the public and others with standing can protest a permit. The judge overseeing the hearing makes a recommendation to the Texas Commission on Environmental Quality.
In 2012, a state district judge granted a contested case hearing, based on issues raised by the Sierra Club's New Mexico members. That decision has been appealed to a state district court of appeals.
Seliger's proposal faced tough questions at a Senate Natural Resources Committee meeting in late March.
"Why would we limit affected parties to three sides and not the fourth?" state Sen. Robert Duncan, R-Lubbock, asked Seliger, referring to New Mexico residents, who actually live much closer to the facilities — within a few miles —than virtually any Texans.
"Folks who live in New Mexico still have access to federal courts for any remedy they want," said Seliger, whose campaign in December 2011 and again in March 2012 received donations of $10,000 from WCS-Texas Solution PAC. (Waste Control Specialists is controlled by investor Harold Simmons, a chief donor to Gov. Rick Perry's campaigns.)
"They're still property owners; they're still Americans — whether they be on north side or west side or east side of the plant," Duncan said. "They should still be offered the opportunity" to protest the plant's permit.
Seliger's bill would also expand the amount of higher-level radioactive waste the dump may take while not increasing the overall cap on radioactive material at the site.
In 2003, lawmakers permitted Waste Control Specialists to take low-level waste from Texas, Vermont and federal facilities.
Seeking to handle more lucrative forms of waste, the company asked lawmakers to allow it to import more, and in 2011 they agreed but limited imports to 30 percent of the landfill volume.
The Seliger proposal would allow the company to import more highly radioactive waste.
Increasing the import limit could pump an additional $1.25 million a year into the state's general fund and Andrews County, which each receive 5 percent of the dump's gross receipts, according to estimates by the Legislative Budget Board.
The facility employs 170 people.
Passing the measure will allow Waste Control Specialists "additional flexibility and allow it to stay strong," said Rodney Baltzer, president of the company.
Cyrus Reed, conservation director of the Lone Star chapter of the Sierra Club, said in a statement that the proposal "not only reflects a lack of respect for the neighboring state, but it invites possible litigation for failing to recognize the rights and concerns of residents who are virtually neighbors to this radioactive waste site."
Fair Use Notice
This document contains copyrighted material whose use has not been specifically authorized by the copyright owner. SEED Coalition is making this article available in our efforts to advance understanding of ecological sustainability, human rights, economic democracy and social justice issues. We believe that this constitutes a "fair use" of the copyrighted material as provided for in section 107 of the US Copyright Law. If you wish to use this copyrighted material for purposes of your own that go beyond "fair use", you must obtain permission from the copyright owner.