January 8, 2013
By Nolan Hicks
FuelFix Blog Houston Chronicle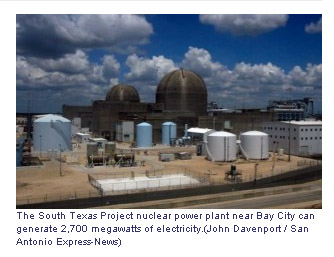 A fire at the South Texas Project Electric Generating Station, the nuclear power plant about 90 miles southwest of Houston, shut down one of the plant's two reactors Tuesday afternoon.
The fire broke out at 4:42 p.m. at the main transformer that feeds power from the reactor to the public power grid, and the reactor was shut down immediately, plant spokesman Buddy Eller said.
The fire was extinguished within 15 minutes, Eller said. He did not know when the reactor might be restarted.
Eller said the fire never threatened the reactor or other key components of the plant, no workers were hurt and the public was never endangered.
The South Texas Project is owned jointly by NRG Energy, Austin Energy and San Antonio's municipal utility, CPS Energy.
Fair Use Notice
This document contains copyrighted material whose use has not been specifically authorized by the copyright owner. SEED Coalition is making this article available in our efforts to advance understanding of ecological sustainability, human rights, economic democracy and social justice issues. We believe that this constitutes a "fair use" of the copyrighted material as provided for in section 107 of the US Copyright Law. If you wish to use this copyrighted material for purposes of your own that go beyond "fair use", you must obtain permission from the copyright owner.