At a site right next to radioactive waste?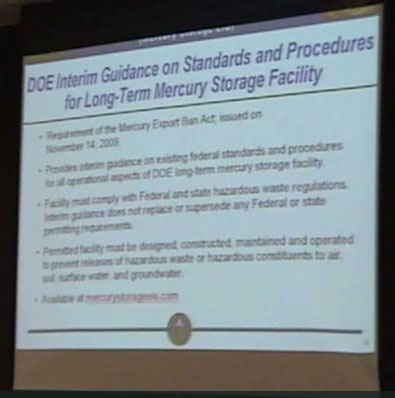 Texas is already under assault from toxic mercury from coal burning power plants which spewed over 11,000 pounds into our air in 2007. Our children are at risk for permanent brain damage from mercury exposure and we rank worst in the nation for coal plant emissions.
Now the US Department of Energy (DOE) wants to dump on Texas and make us the national dumping ground for stored toxic mercury. It's good to get the mercury out of circulation, but it could be stored at various sites, as opposed to all in one place. There are many viable sites that have military security and some already store mercury.
DOE wants to send up to 11,000 tons of toxic elemental mercury to the Waste Control Specialists (WCS) dump site near the Texas/New Mexico border in Andrews County Texas, DOE's preferred site out of eight under consideration.
The WCS site is licensed to take hazardous waste. They already have highly radioactive "K-65" weapons waste from Fernald. They're licensed to take over 59 million cubic feet of radioactive waste.
The March 20, 2010 Andrews County meeting began with a presentation by DOE's David Levenstein. DOE relied on documents provided to them by Waste Control Specialists, as opposed to their own independent studies. They stated that there is no water under the site where the mercury would be stored. This completely flies in the face of documentation by former TCEQ employees who are concerned that groundwater is only 14 feet below the nearby trenches where radioactive waste would be stored. Mercury vapors could cause serious health impacts, including deaths. There is a risk of groundwater contamination. The Ogallala Aquifer underlies eight states in the wheat and soy growing region of the US.
Microbeads of mercury can condense on the storage canisters. 3 liter size flasks (76 pounds) would be used for the mercury in addition to 1000 pound containers.
The building would be made of sheet metal, which would probably not hold up well in a tornado. There have been 21 tornadoes in the past four decades. Mercury spewed across the region would be a disaster. Andrews County is 40% minority and 17% below poverty levels. How's that for environmental justice?
WCS is owned by Dallas billionaire Harold Simmons, who was recently reported to be worth $3.9 billion. He wants Andrews County to provide $75 million for his radioactive waste dump. Maybe he could pull it out of his own pocket? Then again, the plan may be to strap the County with liability through the bond process and leasing buildings that the County would own. What happens if WCS goes broke later? Who pays for the clean up of hazardous waste, toxic mercury or radioactive waste if accidents or natural disasters occur?
Elemental mercury effects – This is what the EPA has to say…
Elemental (metallic) mercury primarily causes health effects when it is breathed as a vapor where it can be absorbed through the lungs. These exposures can occur when elemental mercury is spilled or products that contain elemental mercury break and expose mercury to the air, particularly in warm or poorly-ventilated indoor spaces. The first paragraph on this page lists the factors that determine the severity of the health effects from exposure to mercury. Symptoms include these: tremors; emotional changes (e.g., mood swings, irritability, nervousness, excessive shyness); insomnia; neuromuscular changes (such as weakness, muscle atrophy, twitching); headaches; disturbances in sensations; changes in nerve responses; performance deficits on tests of cognitive function. At higher exposures there may be kidney effects, respiratory failure and death. People concerned about their exposure to elemental mercury should consult their physician.
Additional information on the health effects of elemental mercury is available from the IRIS database at http://www.epa.gov/iris/subst/0370.htm.
Speak out Against Dumping Toxic Mercury on Texas!
Comments on the DOE mercury plan will be accepted until March 30, 2010.
March 30 is the deadline to comment on the Draft Long-Term Management and Storage of Elemental Mercury Environmental Impact Statement
Ways to comment include:
U.S. Mail:
Mr. David Levenstein
EIS Document Manager
U.S. Department of Energy
P.O. Box 2612
Germantown, MD 20874
More Information:
Major Aquifer map of Texas – Texas Water Development Board, September 1990. Note – We have marked the location of the WCS facility.