September 29, 2017
By Sergio Chapa – Reporter

San Antonio Business Journal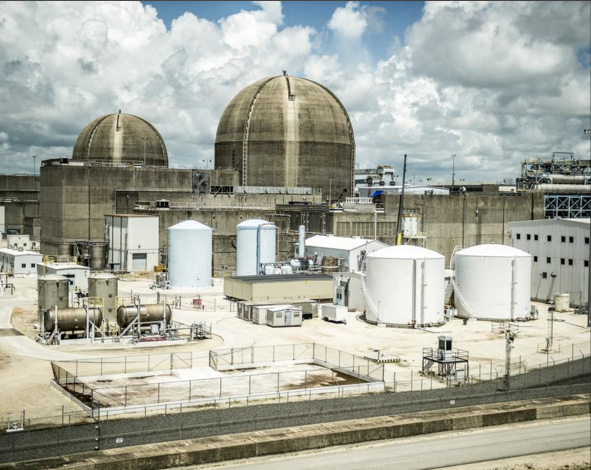 The U.S. Nuclear Regulatory Commission has renewed the license for the South Texas Project. The nuclear power plant provides electricity to San Antonio, Austin and many other area communities.
In an order issued on Thursday, the NRC approved the South Texas Project to remain in operation for an additional 20 years.
Located just outside of Bay City and managed by the STP Nuclear Operating Co., the nuclear power plant is owned by Houston-based NRG Energy, San Antonio-based CPS Energy and Austin-based Austin Energy.
Originally built in the 1980s, the plant filed its application for a license renewal in October 2010. Operating under 40-year licenses, the plant's two reactors were set to expire in 2027 and 2028 respectively. Under the 20-year renewals, the reactors are now cleared to operate through 2047 and 2048.
STP Nuclear Operating Co. President and CEO Dennis Koehl called the NRC's decision a significant milestone for the plant.
"The license renewal of the South Texas Project is part of our ongoing commitment to provide Texans with safe, clean and reliable energy for decades to come," Koehl said in a statement.
Environmentalists opposed the renewal based on concerns over the handling of the plant's radioactive waste, its potential vulnerability to hurricanes and market shifts that have made nuclear power more expensive than natural gas and renewables. The Bay City plant was able to keep producing power when Hurricane Harvey tore through the Texas Gulf Coast last month.
"I am proud of the dedication of our storm crew teammates," Koehl said. "Through great personal sacrifice, these individuals provided safe, reliable electricity to millions of Texans throughout Harvey."
The South Texas Project employs 1,200 people and is one of the newest and largest nuclear power facilities in the United States. Its two units produce 2,700 megawatts of electricity to an estimated 2 million homes.
NRC officials granted the South Texas Project a license in February 2016 license to add two more nuclear reactors at the site but they have yet to be built. Cheap natural gas has made building a new nuclear plant uneconomical, but plant operators told the Business Journal in a previous interview that they will be able to hold on to the license and build them when market conditions are right.
Fair Use Notice
This document contains copyrighted material whose use has not been specifically authorized by the copyright owner. SEED Coalition is making this article available in our efforts to advance understanding of ecological sustainability, human rights, economic democracy and social justice issues. We believe that this constitutes a "fair use" of the copyrighted material as provided for in section 107 of the US Copyright Law. If you wish to use this copyrighted material for purposes of your own that go beyond "fair use", you must obtain permission from the copyright owner.