November 2, 2015
Associated Press
SCRIBA, N.Y. — Entergy Corp. says it plans to close the James A. FitzPatrick nuclear power plant on Lake Ontario.
The company announced the move Monday and says the decision is based on the deteriorating economics of the facility — reduced plant revenues due to low natural gas prices, poor market design and high operational costs.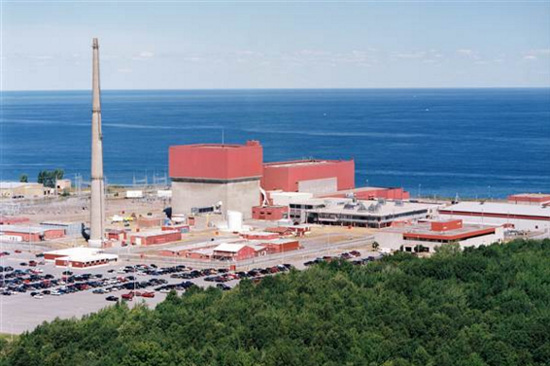 The James A. FitzPatrick nuclear power plant, located in Scriba, New York, is to be closed. U.S. Nuclear Regulatory Commission
The company says the facility, which has an annual payroll of $74 million and pays more than $17 million in taxes, is losing around $60 million annually.
Barring intervention by state officials, the 850-megawatt facility in Scriba, New York, will shut down in late 2016 or early 2017 and begin laying off its 615 employees.
FitzPatrick began generating electricity in 1975 and produces enough electricity to power more than 800,000 homes. Scriba is about 40 miles north of Syracuse.
It is the second closure of a U.S. nuclear plant announced by Entergy in less than a month.
On Oct. 13, the company said it would shut the Pilgrim Nuclear Power Station in Plymouth, Massachusetts, by June 2019.
A statement announcing the closure of the only commercial nuclear plant in the state cited "poor market conditions, reduced revenues and increased operational costs."
Fair Use Notice
This document contains copyrighted material whose use has not been specifically authorized by the copyright owner. SEED Coalition is making this article available in our efforts to advance understanding of ecological sustainability, human rights, economic democracy and social justice issues. We believe that this constitutes a "fair use" of the copyrighted material as provided for in section 107 of the US Copyright Law. If you wish to use this copyrighted material for purposes of your own that go beyond "fair use", you must obtain permission from the copyright owner.