September 17, 2015
James Osborne
Dallas Morning News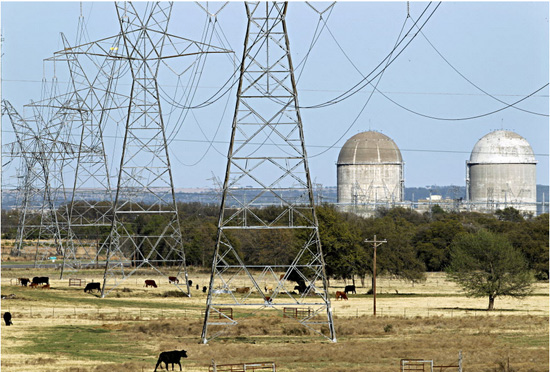 Transmission lines lead to Luminant's Comanche Peak Nuclear Power Plant near Glen Rose, Texas. (Tom Fox/The Dallas Morning News)
WILMINGTON, Del. — Almost 18 months after filing for bankruptcy, Texas' largest power operator Energy Future Holdings was cleared Thursday to move ahead on its plan to break up the company and settle its $40 billion in debts.
With hopes of getting out of court by spring, Energy Future plans to hand its power plants and the retail business TXU Energy to senior creditors, while the transmission business Oncor will be sold to a group led by Dallas billionaire Ray L. Hunt.
It was a quiet conclusion to what had the makings of a potentially high-stakes showdown between Energy Future and an aggressive group of creditors arguing the current restructuring plan is unlikely to succeed. By the time teams of dark-suited attorneys made their way into court Thursday morning though, the two sides had agreed to a temporary truce.
Smaller disagreements would be put aside, leaving the larger question of whether Energy Future was fairly paying off its creditors with what assets it has left to a trial in November.
"We're happy to cede the battleground today," said Andrew Dietderich, an attorney representing the opposing creditors group. "Our objection is stronger than ever."
The case marks the inglorious end to what remains the largest leveraged buyout in U.S. history. Led by private equity tycoons Henry Kravis and David Bonderman, in 2007 the shareholders of TXU Corp., which served millions of customers across Texas, agreed to sell the company for $45 billion.
But saddled with so much debt, the company quickly fell into financial trouble when natural gas prices — which set the price of electricity in Texas — started to fall, as hydraulic fracturing operations across Texas and Pennsylvania flooded the marketplace with gas.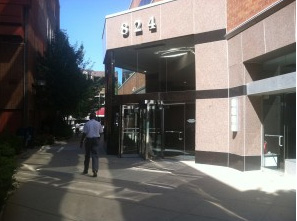 The entrance to the U.S. Bankruptcy Court in Wilmington, Del. (James Osborne/Staff Writer)
Now every couple weeks attorneys from New York and Dallas file up to the fifth floor of a nondescript red brick building in downtown Wilmington to argue over what's left of what had been one of Texas' oldest and most recognizable companies.
One of the busiest courts in the country for corporate bankruptcies, the Delaware district has become like a second home to those who operate in the arcane but lucrative field. Sitting shoulder to shoulder on dark-wooden benches Thursday, attorneys racking up hundreds if not thousands of dollars for the appearance speculated on the day's developments.
"If everything goes right it could be be done by April, but I don't know," said Harold Kaplan, a Chicago-based attorney. "Everyone's still doing staring contests."
The question is whether the deal to sell Oncor, which serves more than 3 million customers across North and West Texas, will go through. Hunt and his partners want to place the power line company into what is termed a real estate investment trust, essentially a means to shift income tax liability from the company to its shareholders.
Only a utility on the scale of Oncor has never been operated under such a structure, tax experts say.
Hunt and his son Hunter, who helps run Hunt Consolidated and launched the power line business Sharyland Utilities in 1999, are counting on Oncor generating enough income to support a purchase price valued between $18 and $19 billion. But first they will need to persuade the Texas Public Utility Commission, which sets rates for the transmission and distribution of electricity.
An application for the takeover of Oncor will be filed within the next two weeks, an attorney representing the Hunt consortium said Thursday.
The fate of Energy Future hinges on the Hunts getting a favorable ruling from the PUC. Without it, the deal would likely collapse and the company and its creditors would have to regroup next year and find an alternative strategy.
"We wanted to stay away from settlement issues. Those are matters for another day, namely Nov. 3 and thereafter," said Marc Kieselstein, an attorney representing Energy Future.
The day was not entirely absent of conflict.
The Office of the U.S. Trustee, which acts as an administrator in federal bankruptcy cases, joined forces with a small creditors group to argue that it was too early for the company to start sending out ballots for creditors to vote on the restructuring plan.
An actual investor in Energy Future – standing out in his sport coat and hiking shoes – took to the podium to say the proposal "doesn't seem fair."
But Sontchi had seen enough. After closing in on 18 months of hearings and more than 6,000 court filings, he signaled to the attorneys gathered before him it was time to move towards an end.
"A transaction doesn't have to close, but the possibility of close-ability in a timely fashion – yes, I used the word close-ability – requires action be taken now," he said.
Fair Use Notice
This document contains copyrighted material whose use has not been specifically authorized by the copyright owner. SEED Coalition is making this article available in our efforts to advance understanding of ecological sustainability, human rights, economic democracy and social justice issues. We believe that this constitutes a "fair use" of the copyrighted material as provided for in section 107 of the US Copyright Law. If you wish to use this copyrighted material for purposes of your own that go beyond "fair use", you must obtain permission from the copyright owner.