Friday, January 31, 2014
By Forrest Wilder
Texas Observer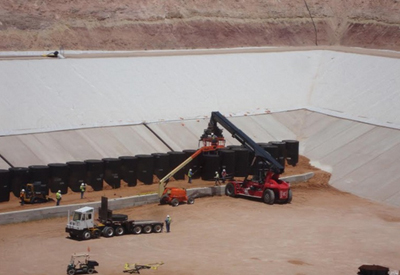 Waste Control Specialists
WCS site

Even as a low-level radioactive waste dump grows in West Texas, lawmakers are pondering the possibility of making Texas the home to at least some of the nation's immense stockpile of "high-level" radioactive waste. Speaker of the House Joe Straus charged the House Committee on Environmental Regulation with studying "the disposal of high-level radioactive waste in Texas" and to make recommendations on how to permit a disposal or "interim storage facility." Currently, the nation's 104 nuclear power plants have nowhere to send their spent fuel rods, after Nevada's controversial Yucca Mountain site was scuttled.
Environmentalists reacted to Straus' directive with palpable anger.
"It's idiotic to even consider disposing of high-level radioactive waste in Texas," said Tom "Smitty" Smith of Public Citizen. "Other states have rejected having high-level radioactive waste dumped on them. Texas shouldn't even be talking about the possibility. It's all risk and very little reward for Texans."
It was not immediately clear if Straus has Waste Control Specialists' dump site near Andrews, Texas, in mind or a different project. Notably, an Austin-based company is pursuing a plan to store high-level waste near Big Spring. Owned by Dallas GOP billionaire Harold Simmons, who died last year, Waste Control has long angled to become the nation's one-stop site for radioactive and hazardous waste. Lubricated with Simmons' political donations and high-powered lobbyists, the state of Texas has generally allowed Waste Control to keep expanding the dump, despite concerns that it lies perilously close to water tables.
But the company has been mum about plans, if any, for high-level waste. An email to company spokesman Chuck McDonald was not immediately returned.
However, an email obtained by the Observer shows that Waste Control has its eyes on new streams of radioactive waste currently banned by the state.
In October, a Texas Commission on Environmental Quality staffer wrote to her superior, Bobby Janecka, that "WCS is presenting that they are going to request to dispose of greater than class c [radioactive waste]. … They are also saying they expect us to approve [depleted uranium] may 2014."
(Notably, Janecka was chief of staff to state Rep. Tryon Lewis, the Republican who represents Andrews and has authored legislation that benefits Waste Control.)
Generally, low-level radioactive wastes are classified as Class A, B or C, with "C" being the most radioactive and long-lived. "Greater than Class C" waste is another grouping, encompassing the most dangerous of so-called low-level radioactive waste.
Depleted uranium is being generated in large quantities at a uranium enrichment plant next door to the Waste Control dump in Eunice, New Mexico. Both depleted uranium and Greater than Class C fall into a regulatory gray area between "low-level" and "high-level" radioactive waste. It appears that the interim charge is probably referring to spent nuclear fuel rods—the stuff once slated for Yucca Mountain, Nevada.
The interim study charge could also apply to another proposed radioactive waste facility, one that's been flying under the radar for some time. Austin-based AFCI Texas has been in talks with local, state and federal officials about building an "interim" storage facility near Big Spring for spent nuclear fuel. AFCI is co-owned by Bill Jones, a Rick Perry ally who serves on the Texas Parks and Wildlife Department board.
Reached by phone today, AFCI co-owner Monty Humble, said he was surprised by the interim charge.
"It's ironic you're asking because I'm trying to figure out where the heck it came from too," Humble said. "I'll be truthful and say we're intensely interested in the question but I have no idea where that charge came from."
Humble said the interim charge is "broader" than what they've been proposing. AFCI said it's only looking at storing high-level radioactive waste, not burying or disposing of it, though he wouldn't rule that out either.
---
Forrest Wilder, a native of Wimberley, Texas, is associate editor of the Observer. Forrest specializes in environmental reporting and runs the "Forrest for the Trees" blog. Forrest has appeared on Democracy Now!, The Rachel Maddow Show and numerous NPR stations. His work has been mentioned by The New York Times, the Washington Post, the New Yorker, Time magazine and many other state and national publications. Other than filing voluminous open records requests, Forrest enjoys fishing, kayaking, gardening and beer-league softball. He holds a bachelor's degree in anthropology from the University of Texas at Austin.
Fair Use Notice
This document contains copyrighted material whose use has not been specifically authorized by the copyright owner. SEED Coalition is making this article available in our efforts to advance understanding of ecological sustainability, human rights, economic democracy and social justice issues. We believe that this constitutes a "fair use" of the copyrighted material as provided for in section 107 of the US Copyright Law. If you wish to use this copyrighted material for purposes of your own that go beyond "fair use", you must obtain permission from the copyright owner.