PRESS RELEASE
February 09, 2015

CHARLOTTE, N.C., February 9, 2015 – AREVA has signed an agreement with Waste Control Specialists LLC (WCS) to assist with their license application and environmental report for the construction of an interim used nuclear fuel storage facility.
WCS filed a letter of intent on February 6, 2015, with the U.S. Nuclear Regulatory Commission (NRC) stating their intention to seek a license to operate an offsite Independent Spent Fuel Storage Installation at their 14,000-acre facility in Andrews, Texas.
"AREVA is pleased to provide WCS with its licensing experience and global expertise for the safe storage, transport and management of used nuclear fuel," said David Jones, senior vice president, of AREVA's Back End division, North America. "This initiative, which already has the consent of local stakeholders, will deliver an economically viable option for used fuel management while more permanent solutions are addressed."
AREVA is a global leader in the transportation and storage of used nuclear fuel. More than 40 percent of American utilities use AREVA's advanced NUHOMS® horizontal storage technology. The group has already sold 900 storage canisters in the U.S., making it the leading supplier for this solution.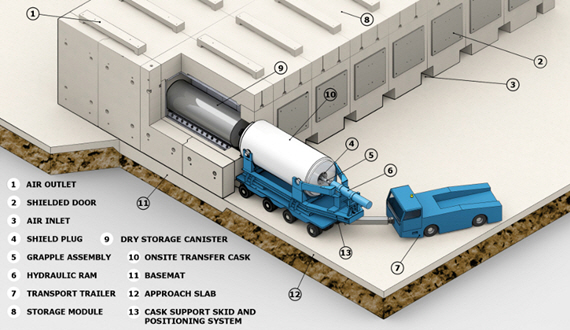 Fair Use Notice
This document contains copyrighted material whose use has not been specifically authorized by the copyright owner. SEED Coalition is making this article available in our efforts to advance understanding of ecological sustainability, human rights, economic democracy and social justice issues. We believe that this constitutes a "fair use" of the copyrighted material as provided for in section 107 of the US Copyright Law. If you wish to use this copyrighted material for purposes of your own that go beyond "fair use", you must obtain permission from the copyright owner.