February 25th 2015
BY ARATA YAMAMOTO
NBC News
TOKYO — The operator of Japan's tsunami-stricken Fukushima nuclear power plant admitted it failed to report a radioactive rainwater leak from the facility for about 10 months.
The company noticed a spike in radiation levels in the plant's drainage system, particularly after rainfall, in April, according to a Tokyo Electric Power Company (TEPCO) official who spoke at a televised press conference on Tuesday.
"This was part of an ongoing investigation in which we discovered a water puddle with high levels of radiation on top of the Reactor No. 2 building, and because this also happens to be one of the sources for this drainage system, we decided to report everything all at once," the unnamed official said to explain why the findings weren't reported immediately.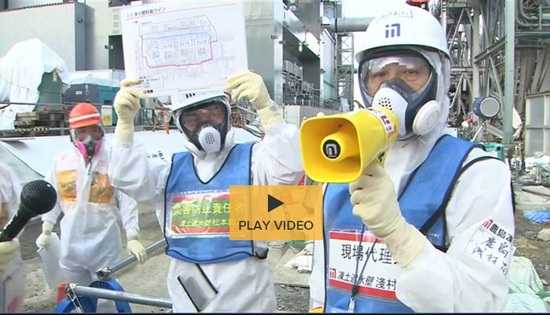 FROM JULY 2014: Fukushima Ice Wall Aims to Contain Leaks NBC NEWS
The puddle of contaminated rainwater contained cesium levels as high as 23,000 becquerels per liter, more than 10 times as high as radiation levels in sample water taken from other parts of the roof, according to TEPCO. It would implement measures to prevent further contamination by, for example, placing sandbags that absorb radioactive material in the area, TEPCO said.
Monitoring systems in nearby waters had not indicated any noticeable rise in radiation levels, the TEPCO official added.
TEPCO has been heavily criticized for its handling of the cleanup at Fukushima Daichi nuclear power plant since it suffered a meltdown at three reactors after a 9.0 magnitude earthquake off the coast on March 11, 2011.
The governor of Fukushima Prefecture Masao Uchibori criticized TEPCO's withholding of information.
"It is extremely regrettable the swift release of information and the importance of that awareness — these basic things were not carried out," he said in comments carried by Nippon TV.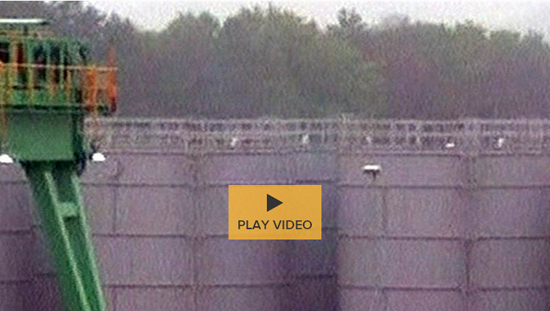 FROM JUNE 2013: Toxic levels found at Fukushima's nuclear plant NBCNEWS.COM
Tsunemasa Niitsuma, a TEPCO executive officer, met with the local fishermen's association on Wednesday.
"To those in the fishing industry, I would like to deeply apologize for the trouble and concerns we have caused," he said in comments carried by Nippon.
This was not enough for Masakazu Yabuki, the head of the fishermen's cooperative in Iwaki City.
In comments carried by Nippon TV he said the damage was already done.
"In order to settle this crisis as quickly as possible, I realized I had to compromise and to do that I had to calm our fishermen and that's because I trusted TEPCO," he said. "But with this one act, they betrayed me."
Reuters contributed to this report.
ARATA YAMAMOTO
Arata Yamamoto has been a NBC News producer in Tokyo, Japan, since 1993. He has worked on an array of stories, including the 2004 Asian tsunami, the 2011 tsunami and Fukushima nuclear disaster in Japan, and Haiyan typhoon that struck The Philippines in 2013.
Fair Use Notice
This document contains copyrighted material whose use has not been specifically authorized by the copyright owner. SEED Coalition is making this article available in our efforts to advance understanding of ecological sustainability, human rights, economic democracy and social justice issues. We believe that this constitutes a "fair use" of the copyrighted material as provided for in section 107 of the US Copyright Law. If you wish to use this copyrighted material for purposes of your own that go beyond "fair use", you must obtain permission from the copyright owner.