Jun 18, 2014
By: Alexa Williams
NewsWest 9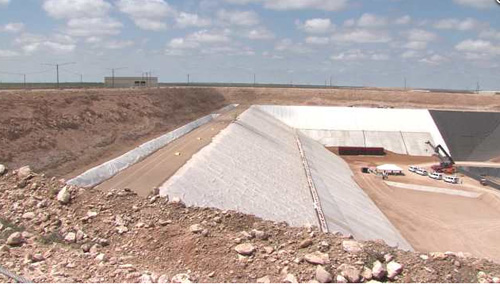 ANDREWS– The Waste Control Specialist site in Andrews is looking to expand. Right now, WCS in Andrews can legally hold up to 2.3 million cubic square feet in radioactive waste. But years down the road, the capacity could skyrocket to nine million cubic feet. That's triple its current size.
"WCS has filed a license amendment with the Texas Commission on Environmental Quality regarding its compact disposal facility to be expanded if the need was there for additional capacity for disposal," WCS Spokesman, Chuck McDonald, said.
WCS said the need probably won't be for decades but they have to plan for the future.
"The reason for the license amendment was in the last legislative session there was concern that 30 to 40 years from now when the State of Texas needs be assured that it has capacity for decommissioned nuclear power pant, that the space will be available," McDonald said.
Planning for expansion isn't the only big change WCS is working on. The company said they're trying to lower their liability claims from $136 million to around $85 million. All because the plant is smaller than expected.
"While it's a significant operation out in Andrews County ultimately what was built was not what was anticipated. So the financial insurance requirement, we're trying to amend the license. We're trying to make it reflect the actual operations rather than the 2004 proposal," McDonald said.
We're told the amendment to expand will be final by the end of this year.
Fair Use Notice
This document contains copyrighted material whose use has not been specifically authorized by the copyright owner. SEED Coalition is making this article available in our efforts to advance understanding of ecological sustainability, human rights, economic democracy and social justice issues. We believe that this constitutes a "fair use" of the copyrighted material as provided for in section 107 of the US Copyright Law. If you wish to use this copyrighted material for purposes of your own that go beyond "fair use", you must obtain permission from the copyright owner.