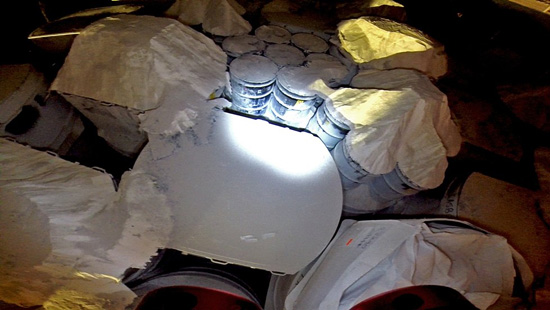 FILE – This May 10, 2014 file photo provided by the Waste Isolation Pilot Plant shows torn and open bags of magnesium oxide on top of standard waste boxes at the WIPP site in Carlsbad, N.M. Workers at a West Texas nuclear waste disposal site are closely monitoring containers from Los Alamos National Lab, Tuesday, May 20, 2014, a day after New Mexico officials announced a type of kitty litter is believed to have caused a radiation leak at the federal government's troubled nuclear waste dump. (AP Photo/Waste Isolation Pilot Plant, File)
MAY 20, 2014
By Betsy Blaney
Associated Press
LUBBOCK, Texas — Workers at a West Texas nuclear waste disposal site on Tuesday were closely monitoring containers being stored there temporarily, a day after New Mexico officials said drums packed with low-level waste and organic kitty litter may pose a potentially "substantial" threat to public health.
One container that used the organic litter is believed to have caused a radiation leak at the federal government's troubled nuclear waste dump near Carlsbad, New Mexico.
Waste Control Specialists spokesman Chuck McDonald says the drums from Los Alamos National Lab are being monitored by video camera 24 hours a day as they sit inside a metal building on the company's site. The New Mexico Environment Department said Tuesday that more than 100 containers at the Andrews County site in West Texas.
"If there is anything that is off normal we would be know about it immediately," McDonald said.
The containers came to WCS after a leak at the Waste Isolation Pilot Plant, the nation's only permanent underground repository for low-level radioactive waste, contaminated 22 workers with low levels of radiation in February. New Mexico environmental officials said more than 350 containers are underground at the Carlsbad site.
The kitty litter soaks up any liquid before drums of waste are sealed and shipped. Officials are investigating whether a switch from non-organic to organic litter is to blame for the leak.
Texas Commission on Environmental Quality spokesman Terry Clawson said none of the containers show any signs of leaking and that every precaution was being taken to ensure safety at the WCS site.
On Monday, environmental officials in New Mexico issued a formal order giving the Los Alamos lab two days to submit a plan for securing the waste containers, many of which are likely stored outdoors on the lab's northern New Mexico campus or at WCS.
The order says 57 barrels of waste that are at Los Alamos were packed with nitrate salts and organic kitty litter, a combination thought to have caused a heat reaction and radiation release.
No shipments are now coming to West Texas from Los Alamos, Clawson said.
Fair Use Notice
This document contains copyrighted material whose use has not been specifically authorized by the copyright owner. SEED Coalition is making this article available in our efforts to advance understanding of ecological sustainability, human rights, economic democracy and social justice issues. We believe that this constitutes a "fair use" of the copyrighted material as provided for in section 107 of the US Copyright Law. If you wish to use this copyrighted material for purposes of your own that go beyond "fair use", you must obtain permission from the copyright owner.