May 22, 2013
by Kate Galbraith
Texas Tribune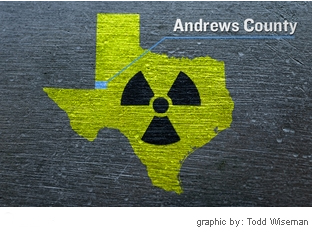 Legislation that would allow hotter radioactive waste in a West Texas dump passed the House on Wednesday.
The bill, Senate Bill 347, makes it possible for most states to send more concentrated, or hotter, waste into the Andrews County facility starting in 2015.
Because the bill was amended in the House, the Senate needs to sign off on it again, though the upper chamber already approved the most contentious element in a different bill — Senate Bill 791.
Environmentalists oppose the bill, as does State Rep. Lon Burnam, D-Fort Worth. Burnam has repeatedly tried to prevent the import of hotter waste and on Wednesday he tried again, with a procedural move to try to kill the bill. But Burnam was overruled, and the House voted 130-15 to pass the bill.
"It's very important for Texas that we have this [facility] open and viable," said state Rep. Tryon Lewis, R-Odessa, who sponsored SB 347 in the House. The bill, he said, would not expand the total amount of hot waste that the state accepts, but rather it would increase the amount that can be imported in any single year.
"It is turning us into the nation's dumping ground," Burnam argued. "Andrews County will be the sacrifice county."
The radioactive waste dump, which began accepting waste a year ago, is operated by Waste Control Specialists, a company owned by Dallas billionaire (and prolific political donor) Harold Simmons. When it was first approved by Texas lawmakers a decade ago, the facility was supposed to accept only waste from Texas and Vermont. But lawmakers have since expanded its remit.
Burnam has opposed the dump throughout and cited concerns of standing water at the facility, as well as the long-term future of the waste hundreds or thousands of years from now. On Tuesday he tried and failed to amend the bill to provide for an independent auditor to assess the site in addition to the Texas Commission on Environmental Quality.
Lewis rejected the criticisms. "There have been computer models that it's perfectly safe," he said.
Emily Ramshaw contributed reporting.
Fair Use Notice
This document contains copyrighted material whose use has not been specifically authorized by the copyright owner. SEED Coalition is making this article available in our efforts to advance understanding of ecological sustainability, human rights, economic democracy and social justice issues. We believe that this constitutes a "fair use" of the copyrighted material as provided for in section 107 of the US Copyright Law. If you wish to use this copyrighted material for purposes of your own that go beyond "fair use", you must obtain permission from the copyright owner.