June 27, 2013
By MATTHEW L. WALD
New York Times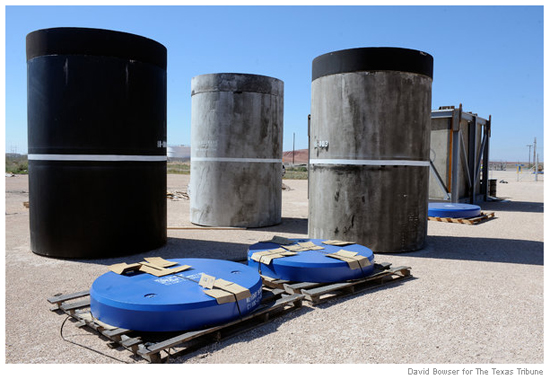 Concrete canisters, with their blue lids, used to store drums of nuclear waste near Andrews, Tex.
WASHINGTON — As more nuclear reactors across the country are closed, the problem of what to do with their waste is becoming more urgent, government officials and private experts said at a conference here this week.
To address the problem, a bipartisan group of four senators introduced a bill on Thursday that would provide for temporary, centralized storage, even as House leaders remained focused on trying to revive plans for the Yucca Mountain nuclear waste repository that the Obama administration has declared dead.
Nuclear waste is accumulating in steel and concrete storage casks at reactor sites around the country. But the casks — sealed boxes of many tons — cannot be sent to any repository because they are not compatible, said Jeff Williams, director of the Energy Department's Nuclear Fuel Storage and Transportation Planning Project.
In addition, a growing number of the sites no longer have an operating reactor or the associated fuel-handling equipment, so they have no way to move the highly radioactive fuel to another storage package.
Read the rest of the story on the New York Times website.
Fair Use Notice
This document contains copyrighted material whose use has not been specifically authorized by the copyright owner. SEED Coalition is making this article available in our efforts to advance understanding of ecological sustainability, human rights, economic democracy and social justice issues. We believe that this constitutes a "fair use" of the copyrighted material as provided for in section 107 of the US Copyright Law. If you wish to use this copyrighted material for purposes of your own that go beyond "fair use", you must obtain permission from the copyright owner.