Tuesday, March 27, 2012
Kyodo, Staff report
The Japan Times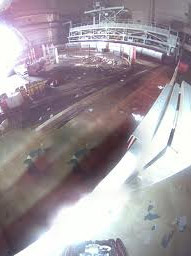 The water cooling the core of the crippled Fukushima power plant's No. 2 reactor is only 60 cm deep, Tokyo Electric Power Co. said Monday, all but confirming experts' fears that the unit is breached and can't hold its coolant.
The utility, better known as Tepco, made the discovery by mechanically inserting a 20-meter endoscope into the primary containment vessel to check its coolant level after failing in January. Water must constantly cover the nuclear fuel core to prevent the rods from melting. The rods in a boiling water reactor of this type are about 4 meters long.
Tokyo Electric Power Co. spokesman Junichi Matsumoto gave assurances that the melted fuel in unit 2 is being constantly cooled by injected water and said the temperature was between 48.5 and 50 degrees. But he also acknowledged that the lower-than-expected water level suggests much of it is leaking from the vessel and into the plant.
This is the second time Tepco has inserted an endoscope into the reactor since the plant was crippled by the core meltdowns triggered by the earthquake and tsunami last March. When an attempt using a shorter endoscope failed to find water level on Jan. 19, the company had to try a longer one to check deeper inside.
The fuel in reactors 1 to 3 is believed to have blazed through the pressure vessels and accumulated in the outer containment vessels. Although the water injected into unit 2 was transparent, some sediment was found, Matsumoto said.
Tepco plans to survey the No. 2 reactor again on Tuesday to check the interior radiation level.
For the first survey in January, Tepco projected the water level had likely climbed to about 4.5 meters, based on the pressure differential between the main body and a lower component. But it failed to detect any coolant water around 4 meters from the bottom.
Fair Use Notice
This document contains copyrighted material whose use has not been specifically authorized by the copyright owner. SEED Coalition is making this article available in our efforts to advance understanding of ecological sustainability, human rights, economic democracy and social justice issues. We believe that this constitutes a "fair use" of the copyrighted material as provided for in section 107 of the US Copyright Law. If you wish to use this copyrighted material for purposes of your own that go beyond "fair use", you must obtain permission from the copyright owner.