February 15, 2012
The Sustainable Energy and Economic Development (SEED) Coalition is among the original petitioners on the Petition for Rulemaking to Improve Emergency Planning Regulations (10 CFR 50.47)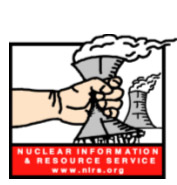 From Petition:
Petitioners request the U.S. Nuclear Regulatory Commission (NRC) to amend the NRC's offsite emergency planning regulations in 10 10 CFR § 50.47 and Appendix E to Part 50, as well as including these modifications within 10 C.F.R.§52 Licenses, Certification and Approvals for Nuclear Power Plants for new reactors. These amendments include, among other provisions:
Expand the radius of the Plume Exposure Pathway Emergency Planning Zone (EPZ) from a 10-mile radius to a 25-mile radius;
Establish a new 50-mile radius Emergency Response Zone, with more limited requirements than the EPZ;
Expand the radius of the Ingestion Pathway EPZ from the current 50 mile radius to a 100- mile radius;
Ensure that emergency plans are tested to encompass initiating and/or concurrent natural disasters that may affect both accident progression and evacuation conduct.
Statement:
"Evacuation planning for a nuclear reactor accident at Texas reactor sites is crucial since the longer people are exposed to radiation, the higher the health risks. Expanding the distance for evacuation makes good sense, especially after witnessing the Fukushima nuclear disaster. Another safety concern in Texas is that there are no full-time paid professional fire departments in the counties where nuclear reactors and a radioactive waste dump are located and or adequate plans to rapidly distribute potassium iodide if needed," said Karen Hadden, Executive Director of the Sustainable Energy and Economic Development (SEED) Coalition.
Take Action:
Related:
Click here to find out how close you live to a nuclear power plant in the United States.
Two New Reactors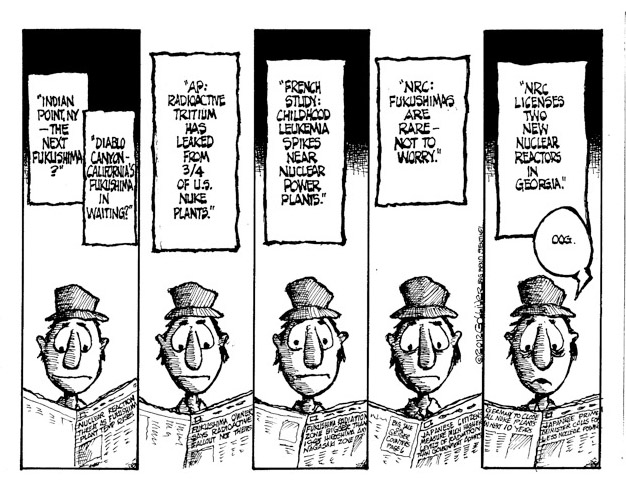 Couresy of Gary Olvier, cartoonist
---