February 27, 2012
By MARTIN FACKLER
New York Times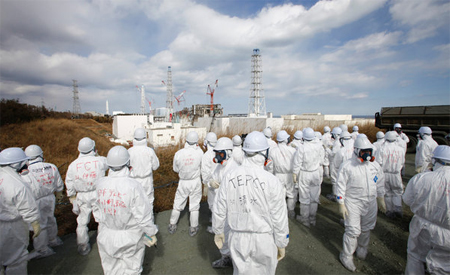 Photo credit: Issei Kato/Reuters, via Bloomberg
Journalists, in protective gear, were taken on a tour last week of Tokyo Electric Power Co.'s
Fukushima Daiichi nuclear plant, at the center of the crisis last year.

TOKYO — In the darkest moments of last year's nuclear accident, Japanese leaders did not know the actual extent of damage at the plant and secretly considered the possibility of evacuating Tokyo, even as they tried to play down the risks in public, an independent investigation into the accident disclosed on Monday.
Related
The investigation by the Rebuild Japan Initiative Foundation, a new private policy organization, offers one of the most vivid accounts yet of how Japan teetered on the edge of an even larger nuclear crisis than the one that engulfed the Fukushima Daiichi Nuclear Power Plant. A team of 30 university professors, lawyers and journalists spent more than six months on the inquiry into Japan's response to the triple meltdown at the plant, which followed a powerful earthquake and tsunami on March 11 that shut down the plant's cooling systems.
The team interviewed more than 300 people, including top nuclear regulators and government officials, as well as the prime minister during the crisis, Naoto Kan. They were granted extraordinary access, in part because of a strong public demand for greater accountability and because the organization's founder, Yoichi Funabashi, a former editor in chief of the daily newspaper Asahi Shimbun, is one of Japan's most respected public intellectuals.
Read more at the New York Times website…
Fair Use Notice
This document contains copyrighted material whose use has not been specifically authorized by the copyright owner. SEED Coalition is making this article available in our efforts to advance understanding of ecological sustainability, human rights, economic democracy and social justice issues. We believe that this constitutes a "fair use" of the copyrighted material as provided for in section 107 of the US Copyright Law. If you wish to use this copyrighted material for purposes of your own that go beyond "fair use", you must obtain permission from the copyright owner.