August 20, 2011
By KATE GALBRAITH
New Your Times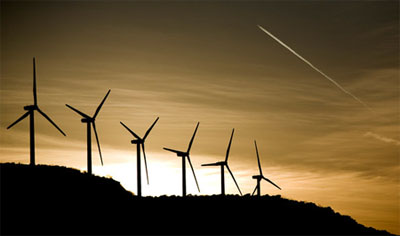 Brian Harkin for The New York Times
Wind turbines on a mesa in Nolan County outside Sweetwater.
Wind energy has become a booming industry in West Texas.
In the opening days of his presidential campaign, Gov. Rick Perry of Texas has railed against a favorite target, the Environmental Protection Agency, and declared himself a "skeptic" on the subject of humans as the cause of global warming.
If Mr. Perry wins the White House, his national energy policy will focus on cutting federal regulations, especially at the E.P.A., his spokesman, Mark Miner, said.
"The governor's energy priorities will be centered around scaling back the E.P.A.'s intrusive, misguided and job-killing policies, which will empower states to foster their own energy resources without crippling mandates and open the doors for our nation to pursue and strengthen an all-of-the-above energy approach," Mr. Miner wrote in an e-mail.
Read the full article at the New York Times website…
Fair Use Notice
This document contains copyrighted material whose use has not been specifically authorized by the copyright owner. SEED Coalition is making this article available in our efforts to advance understanding of ecological sustainability, human rights, economic democracy and social justice issues. We believe that this constitutes a "fair use" of the copyrighted material as provided for in section 107 of the US Copyright Law. If you wish to use this copyrighted material for purposes of your own that go beyond "fair use", you must obtain permission from the copyright owner.