December 2, 2010
Guy Chazan
Wall Street Journal
OLKILUOTO, Finland— A thickly wooded island off the west coast of Finland is the cradle of the global nuclear renaissance, but it's been a difficult birth.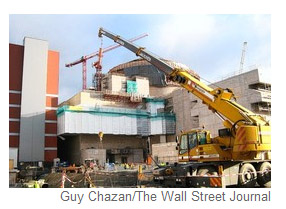 French engineering company Areva SA is building the world's first new-generation nuclear reactor here. Some 4,000 workers from across Europe toil in the shadow of its vast concrete containment dome.
But the Olkiluoto-3 reactor has had a deeply troubled history. Originally slated to cost around $4 billion (€3 billion), its price tag has nearly doubled to $7.2 billion (€5.3 billion). And it is four years behind schedule.
Areva, whose main shareholder is the French government, and its Finnish customer, Teollisuuden Voima Oyj, or TVO, have had a spectacular falling out over the project. The two are countersuing each other for compensation over the delays, with TVO accusing Areva of gross negligence.
The French insist the project is a success. "It's an investment in the future," says the project director, Jean-Pierre Mouroux. "It's the first of a kind, and we've learned a lot of lessons."
Capable of powering 1.5 million homes, and designed to withstand a 9/11-style direct hit by a commercial airliner, Olkiluoto was to be the flagship of the global nuclear revival. Instead it has become a symbol of the enormous cost, complexity and risk of new nuclear projects.
"If it were any other product, it would have been binned by now," says Steve Thomas, professor of energy policy at London's University of Greenwich.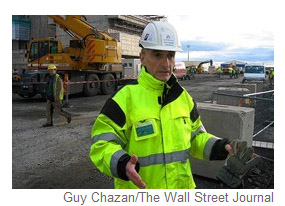 Nuclear power's reputation was badly marred by the 1986 Chernobyl catastrophe and the 1979 accident at Three Mile Island. But it has made a comeback as rising concern about energy security and global warming have increased the appeal of nonfossil fuels. Some 58 nuclear reactors are currently being built in 15 countries.
Yet the economics of nuclear energy have deteriorated, especially in the U.S., where the shale gas boom has driven down the price of natural gas, making alternatives like nuclear less competitive. Meanwhile, nuclear plants remain expensive to build: A new gas-fired power plant costs around $1 billion, or $1,000 a kilowatt, while a nuclear plant can cost at least five times that.
Nuclear advocates stress the low operating costs once a reactor is running. They also say the price tag won't seem so high if gas and coal-fired plants have to start paying for the carbon dioxide they emit.
Yet after Olkiluoto, utilities increasingly worry about the risk of cost blowouts and long delays. "If the vendors can't tell them definitively how long it's going to take to build a reactor, how can they go to market and get financing?" asks Ann Mac Lachlan, European head of Platts Nuclear Publications. "Such uncertainties are killing the nuclear industry in the U.S."
The reactor being built in Finland, the European Pressurized Reactor, or EPR, was the fruit of research efforts by Areva and Germany's Siemens AG to create a new generation of safe, efficient nuclear plants.
It boasts a "core-catcher," or concrete basin designed to trap and douse the reactor core in the event of a meltdown. The reactor itself is sheathed in a steel-lined double concrete shell strong enough to withstand an air attack.
In 2003, Finland became the first country to order an EPR. Soon, Areva got an order for another one, in Flamanville, France, and for two more in Taishan, China.
But Areva and Siemens didn't have detailed design documents ready when construction on Olkiluoto started, and they underestimated the time it would take to complete them, setting the scene for big delays.
Then, regulators stopped work at the site for several months after it emerged that the concrete mix used to build the base of the plant was too watery.
Finland's nuclear safety regulator, STUK, criticized Areva's concrete supplier, saying it and other subcontractors had "no prior experience in nuclear power plant construction." It also said Areva appeared to have chosen companies on the basis of price rather than expertise.
Areva blames its difficulties on the 20-year hiatus in the nuclear industry. "The supply chain was lost after the end of the 1990s, and we had to revive it," says Mr. Mouroux.
Inspectors also uncovered welding problems: The gaps between the panels of the steel liner encasing the reactor were larger than specified in the design documents, they noted. The discrepancy, STUK said, was "absolutely unacceptable."
In 2008, STUK demanded changes to Olkiluoto's automation systems, and the following year, it halted work on the pipes of the reactor's critical cooling system after it discovered welders had violated procedures. Areva itself had to scrap piping made for Olkiluoto at its fabrication plant in France after it discovered the components didn't comply with the Finns' stricter safety requirements.
Areva blames the Finns for the delays. "Some minor adjustments to the design took weeks to be approved, when they should have been resolved on the spot," Mr. Mouroux says.
STUK's response is contained in its 2006 report: "Finnish preciseness and attention to detail are of a level which the plant vendor did not expect," it said.
Areva encountered problems elsewhere, too. The second EPR, being built in Flamanville by Electricité de France SA, the French power group, was also beset by cost overruns and delays.
In 2008, South Africa called off a plan to build a new fleet of nuclear reactors after bids from Areva and Westinghouse Electric Co, a Toshiba Corp. unit, came in higher than expected. Canada made a similar about-face.
Then, last December, Areva's EPR lost out to a cheaper, simpler South Korean model in the United Arab Emirates.
Shocked, the French government asked a former CEO of EDF, Francois Roussely, to write a report on the state of the nuclear industry. He concluded that the difficulties at Olkiluoto and Flamanville had "seriously undermined" the EPR's credibility.
In the U.S., Areva also suffered setbacks. Last month, Constellation Energy Group Inc. pulled out of a venture with EDF to build an EPR at Calvert Cliffs in Maryland, complaining that the terms of a federal-loan guarantee were too tough.
Areva is still confident about the EPR's prospects, though. The U.K. is in the process of approving the reactor's design and could order up to four. India may order two. And Areva insists the two EPRs being built in Taishan are on schedule and on budget.
Still, the pace of nuclear expansion is much slower than many had predicted just a few years ago. "The bottom has really fallen out of the nuclear renaissance," says Ms. Mac Lachlan.
Write to Guy Chazan – guy.chazan(at)wsj.com
Fair Use Notice
This document contains copyrighted material whose use has not been specifically authorized by the copyright owner. SEED Coalition is making this article available in our efforts to advance understanding of ecological sustainability, human rights, economic democracy and social justice issues. We believe that this constitutes a "fair use" of the copyrighted material as provided for in section 107 of the US Copyright Law. If you wish to use this copyrighted material for purposes of your own that go beyond "fair use", you must obtain permission from the copyright owner.