December 8, 2009
News 4 WOAI
SAN ANTONIO — The public will soon know what was uncovered during a special investigation into the CPS Energy nuclear expansion project.
Board members decided Monday night to make those results public on Wednesday. They said it is important to rebuild the energy provider's credibility in ratepayers' eyes, and the report will help do that.
The investigation looked into why city council and the CPS Energy board did not know the cost estimate of two new nuclear reactors had gone up by $4 billion until right before a council vote on it.
After Monday night's meeting, News 4 WOAI asked chairwoman Aurora Geis if she plans to step down, a move Mayor Julian Casto called for.
"I personally want to be able to stand for what is in the best interest of CPS Energy and for this community." Geis went on to say, "That would be handling the situation in a very orderly manner."
The board also set Jelynne Leblanc Burley's salary at $300,000 while she is serving as interim General Manager of CPS Energy. As chief administrative officer, she was making $225,000.
CPS Energy is still searching for a permanent General Manager.
Watch video of the news story at WOAI's news site: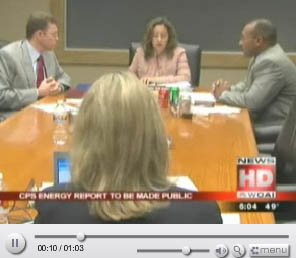 Fair Use Notice
This document contains copyrighted material whose use has not been specifically authorized by the copyright owner. SEED Coalition is making this article available in our efforts to advance understanding of ecological sustainability, human rights, economic democracy and social justice issues. We believe that this constitutes a "fair use" of the copyrighted material as provided for in section 107 of the US Copyright Law. If you wish to use this copyrighted material for purposes of your own that go beyond "fair use", you must obtain permission from the copyright owner.