What Nuclear Renaissance? Nuclear Power Opposition Strong in First Project
May 16, 2008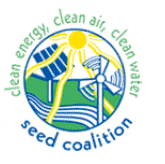 Statement by Karen Hadden, Executive Director – SEED Coalition, May 16, 2008
Austin, TX Opposition to investing in more nuclear plants is so strong in San Antonio, Texas, that the mayor and municipally owned CPS Energy were forced to take nuclear power out of the rate hike package. Instead of passing a 5% rate hike, the San Antonio City Council voted to approve only a 3.5% rate hike on May 15, 2008. As a result there is less money for CPS to stealthily apply toward nuclear power.
At the day long San Antonio City Council proceeding, citizens opposing nuclear power called for close scrutiny and more accountability of CPS Energy. Council Members echoed citizen demands for more energy efficiency and renewable power, and utility board members and executives were called on the carpet throughout the day. For too long CPS Energy has been operating in the dark, failing to provide answers to basic questions and calling on the attorney general to defend their  so called  "competitive trade secrets" claims frequently.
CPS Energy refuses to provide cost estimates for the proposed two nuclear reactors, STP 3 & 4, proposed for the existing Matagorda County site. Their would-be partner, NRG Energy, Inc. is seriously underestimating costs, which have risen 30% even before licensing. NRG went bankrupt in 2003 and has never built a nuclear reactor before. Inexperience led to delays and cost overruns for the existing two STP reactors, which ran six times over budget and eight years late.
CPS Energy has been spending money for preliminary design and engineering, the license application and nuclear reactor parts, including a reactor vessel, without a vote by either city council or the citizens.  Speakers questioned what authorization they had for this spending.
The $206 million allocated only by the CPS Board could retrofit over 50,000 homes in San Antonio, lowering utility bills and creating local jobs.
This first nuclear project to move forward in the country in 29 years has hit only roadblocks and opposition so far:
The license application was so incomplete that the Nuclear Regulatory Commission halted their review. Numerous exemptions were sought to the presumably standardized design.
SEED Coalition's petition was successful, and the NRC gave an indefinite suspension of the licensing procedure.
The City of Austin, a partner in the existing nuclear project, walked away from investing this time. The nuclear reactor portion of the rate hike package had to be removed in order to get any rate hike passed in San Antonio.
On May 15, 2008, the rate hike was reduced from 5 to 3.5%. The additional rate hikes needed for expensive nuclear power are sure to hit serious resistance as well. Nuclear power could cause the currently low rates in San Antonio to increase by up to 60
###