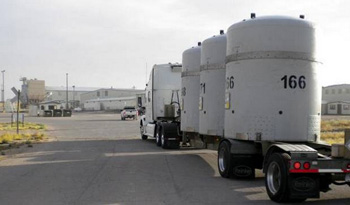 18 June 2014
Stealthily loading West Texas up with radioactive waste
Waste Control Specialists is in talks to start receiving depleted uranium, and it wants to triple its West Texas site's size.
The nuclear waste disposal site operated by Waste Control Specialists in West Texas is steadily morphing away from its original mission as a depository for very limited quantities of low-level radioactive items from Texas and Vermont. Today, the site is taking on much greater quantities and higher levels of radioactive waste from multiple states, and its owner wants permission to dramatically expand operations.
Read the Dallas Morning News Editorial
---
June 10, 2014
Energy Future Holdings approved for loan
The parent company of Luminant, which operates Comanche Peak Nuclear Power Plant north of Glen Rose, received court approval for a multi-billion dollar loan to sustain its retail electric operations while in bankruptcy proceedings.
---
May 10, 2014
New Mexico nuclear waste site halts shipments of toxic materials to Texas
(Reuters) – A New Mexico nuclear waste dump, which saw a radiation leak in February, has halted shipments of toxic waste barrels to a commercial Texas facility amid concerns that chemical reactions could trigger another release there, officials said on Friday.
A probe found the February 14 accident may have been linked to improperly prepared and packaged drums of toxic waste accepted from the Los Alamos National Laboratory by the Waste Isolation Pilot Plant (WIPP), its managers said in a statement.
---
April 30, 2014
What Could Go Wrong
Deadly High-Level Radioactive Waste: Health and Safety Concerns About Storage and Disposal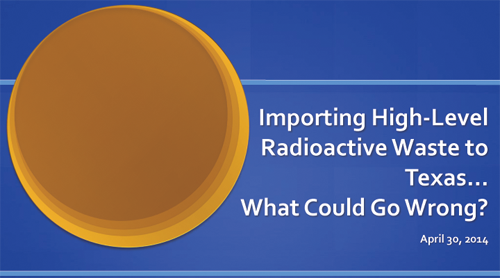 Austin, TX - A nuclear expert, a medical doctor, and an attorney joined public interest advocates to address the health and safety risks of bringing the hottest of nuclear reactor waste, the spent nuclear fuel rods, to Waste Control Specialists' (WCS) dump in Andrews County, Texas or another Texas site. The legal issues involved were discussed as well.
Governor Perry and Speaker Straus are pushing consideration of importing dangerous radioactive waste for storage and possibly disposal in Texas, and the House Environmental Regulation Committee will hold a hearing on the issue in the near future.
Related material:
---
Examining the fallout from Texas nuclear waste proposal
Texas House Speaker Joe Straus recently raised eyebrows among environmentalists and individuals connected to the nuclear waste industry. Unexpectedly opening the possibility of making Texas home to America's supply of high-level radioactive waste will do that.
The United States lacks a permanent disposal site for 68,000 metric tons of spent nuclear fuel after the Obama administration decided in 2010 to halt funding for the multimillion-dollar Yucca Mountain geologic repository in Nevada. Straus has instructed legislators to determine whether Texas can be the answer and "make specific recommendations on the state and federal actions necessary to permit a high-level radioactive waste disposal or interim storage facility in Texas."
Read more…
Related WIPP Material:
News Stories:
---
May 7, 2014
Toshiba writes down value of stake in Texas nuclear project
May 7 (Reuters) – Toshiba Corp said on Wednesday it wrote down by more than $300 million the value of its stake in a company planning to extend a nuclear power plant in Texas, amid uncertainty over the award of licenses for reactors in the U.S.
Toshiba had only last month scored a victory in a dispute with the U.S. Nuclear Regulatory Commission over foreign ownership rules, when the watchdog's judicial arm ruled in the Japanese company's favour.
---
April 15, 2014
Bad Decision on Foreign Ownership Case Against South Texas Project Nuclear Reactors Protects Toshiba, Not Citizens
NRC Staff Agreed with License Opponents on this Legal Contention
Austin, Texas The Nuclear Regulatory Commission"s Atomic Safety and Licensing Board has ruled that even though Japanese owned Toshiba is funding 100% of pre-license activities for two proposed South Texas Project reactors, the license applicant (Nuclear Innovation North America or NINA) is not subject to foreign control or domination prohibitions of the Atomic Energy Act.
---
August 20, 2013
West Coast of North America to Be Hit Hard by Fukushima Radiation
Radiation Levels Will Concentrate in Pockets In Baja California and Other West Coast Locations
An ocean current called the North Pacific Gyre is bringing Japanese radiation to the West Coast of North America: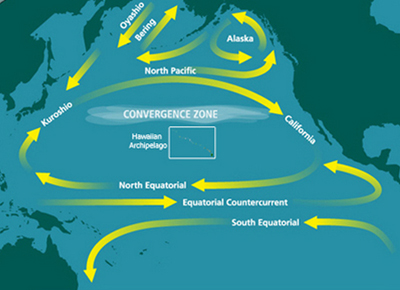 North Pacific Subtropical Convergence Zone FDA Refuses to Test Fish for Radioactivity … Government Pretends Radioactive Fish Is Safe
The leg of the Gyre closest to Japan – the Kuroshio current – begins right next to Fukushima
---
Greg Palast: Fukushima Texas
| | |
| --- | --- |
| | An excerpt from his great book – Vultures' Picnic, In Pursuit of Petroleum Pigs, Power Pirates, and High-Finance Carnivores |
---
August 22, 2012
Nuclear power requires Uranium mining, which threatens some Texas communities.