May 20, 2013
HALT A BAD RADIOACTIVE WASTE BILL NOW! URGENT!
Calls and/or email any and all Texas House members immediately regarding a bad radioactive waste bill, Seliger's SB 791!
Your work is greatly appreciated.
The bill is up today on the House floor, but it's not too late to call. NOW is the time!
Please call and/or email all HOUSE Members: Here's a few for starters…
Rep. Roberto Alonzo 512-463-0408
Rep. Carol Alvarado 512-463-0732
Rep. Helen Giddings 512-463-0953
Rep. Eddie Lucio III 512-463-0606
---
May 17, 2013
Bad Radioactive Waste Bill Increases Threats to Texas While Rewarding a Major Perry Donor
Austin, TX A bill that would increase the concentration of radioactive waste to be dumped in Texas is set to be heard on the House floor on Monday, May 20th. Waste Control Specialists (WCS) would benefit even more from the hotter radioactive materials going to their radioactive waste dump in West Texas, and would get to bring in the waste sooner, raising the annual cap on imported waste from other states from 120,000 to 275,000 curies. SEED Coalition, Public Citizen, and the Lone Star Sierra Club oppose the bill, which is set to be heard on Monday, May 20th on the House floor. SB 791 is authored by Sen. Seliger and Representative Drew Darby.
---
May 1, 2013
Foreign Ownership Could Halt Licensing of South Texas Project Nuclear Reactors
Austin, Texas On Tuesday, the Nuclear Regulatory Commission told judges overseeing the licensing case for two proposed South Texas Project reactors that the applicant (NINA) is subject to foreign ownership control or domination requirements and does not meet the provisions of the Atomic Energy Act in this regard. This will help licensing opponents in the hearing that is anticipated this fall.
"This NRC notice is great for us as opponents of two proposed reactors at the South Texas Project," said Karen Hadden, executive director of SEED Coalition, a group that has intervened in the licensing process, along with the South Texas Association for Responsible Energy and Public Citizen. "We hope that we'll soon see clean, safe energy developed in Texas instead of dangerous nuclear power. We must prevent Fukushima style disasters from happening here."
Related Material:
---
Feb 05, 2013
Duke Energy announces closing of Crystal River nuclear power plant
CRYSTAL RIVER — Duke Energy announced early Tuesday it will permanently close the crippled Crystal River nuclear plant that has been shut down since late 2009.
The company said it is reviewing alternatives, including building a new natural gas plant, to replace the power produced by the nuclear facility.
For customers, the final costs to resolve the loss of Duke's sole nuclear plant in Florida could become staggering – upwards of $3 billion.
Customers already are on the hook for $1.3 billion in upgrades and maintenance costs to the nuclear plant, improvements that will now never produce any power. And a new natural gas plant will cost more than $1 billion. They also must pay the growing replacement power bill that has been accumulating since the plant went off line.
---
January 11, 2013
Fire at South Texas Project Nuclear Reactor Site – Just Before Re-licensing Hearing
JOIN US AT A BAY CITY HEARING ON TUESDAY – JAN. 15TH – ABOUT RELICENSING TWO SOUTH TEXAS PROJECT NUCLEAR REACTORS – GIVING THEM 20 MORE YEARS.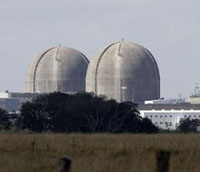 Austin, TX A fire that shot 50 foot flames into the air erupted January 8th in the main transformer at the South Texas Project site near Bay City, Texas, about 90 miles southwest of Houston. Reactor 2, which was out of commission for five winter months in 2011-2012, has not been operating since the fire.
The fire occurred just one week prior to a hearing on re-licensing the two South Texas Project reactors, which will be held January 15th from 2-5 pm and 7-10 pm at the Bay City Civic Center, 201 Seventh St.
Public Comments
Public comments on the draft environmental impact statement for the South Texas Project license renewal will be accepted through Feb. 22, 2013. They may be submitted online via the federal government's rulemaking website at www.regulations.gov using (search for Docket ID NRC-2010-0375)
NRC NEWS
U.S. NUCLEAR REGULATORY COMMISSION
Office of Public Affairs Telephone: 301/415-8200
Washington, D.C. 20555-0001
E-mail: opa.resource@nrc.gov Site: www.nrc.gov
Blog: http://public-blog.nrc-gateway.gov
No. 12-128
December 18, 2012
Docket ID NRC-2010-0375. They may also be mailed to Cindy Bladey, Chief, Rules, Announcements and Directives Branch (RADB), Division of Administrative Services, Office of Administration, Mail Stop: TWB-05-B01M, U.S. Nuclear Regulatory Commission,
Washington, D.C., 20555-0001. Comments may also be faxed to 301-492-3446.
---
January 8, 2013
Brief fire prompts shutdown of reactor at Bay City nuke plant
A fire at the South Texas Project Electric Generating Station, the nuclear power plant about 90 miles southwest of Houston, shut down one of the plant's two reactors Tuesday afternoon.
The fire broke out at 4:42 p.m. at the main transformer that feeds power from the reactor to the public power grid, and the reactor was shut down immediately, plant spokesman Buddy Eller said.
---
Dec. 11, 2012
Radioactive Waste Now Rumbling through Texas
Trucks are now bringing "low-level" radioactive waste into Texas from nuclear reactors around the country, headed to the West Texas site in Andrews County site operated by Waste Control Specialists (WCS). This waste can be very hot in terms of radioactivity – and can include everything but the reactor fuel rods. Radioactive waste from DOE will soon be coming as well.
Despite federal requirements to do so, the Texas Department of State Health Services has failed to designate routes for this radioactive waste, which poses risks from accidents. Train transport may begin soon as well.
Urge your County judge and state legislators to require route designation for radioactive waste and to hold hearings to take input on traffic and safety issues in your area. Communities have a right to say if, when and where radioactive waste is transported, but the opportunity has not been provided.
Take Action and Sign the Petition Below:
Petition language:
I urge Texas' County Judges and state legislators to ask the Texas Department of State Health Services to act as directed by federal law and designate routes for low-level radioactive waste in Texas, and to hold hearings where citizens can comment on routes and safety concerns.
---
Nov. 03, 2012
Reactor is shut down at Comanche Peak nuclear plant
One of the two reactors at the Comanche Peak nuclear power plant near Glen Rose was shut down early Friday after a cooling pump overheated, the operator reported.
According to an event report filed with the Nuclear Regulatory Commission, Unit 1 was shut down manually at 1:42 a.m. because of "high temperature indications" in a motor bearing on one of four huge pumps that circulate cooling water around the reactor.
---
October 24, 2012
U.S. to study cancer risks near 6 nuclear plants
The U.S. Nuclear Regulatory Commission announced plans Tuesday to launch a pilot epidemiological study of cancer risks near six nuclear power plants, including San Onofre Nuclear Generating Station in north San Diego County.
The commission is acting out of growing concern that using uranium to produce electricity may be dangerous even without accidents at nuclear plants. In addition, recent epidemiological studies in Germany and France suggest that the children living near nuclear reactors are twice as likely to develop leukemia.
The U.S. study will be conducted by the National Academy of Sciences, which will also help the commission determine whether to extend the study to all 65 U.S. nuclear power plants and certain nuclear fuel sites.
---
October 19, 2012
Report: South Texas Project faces flood risk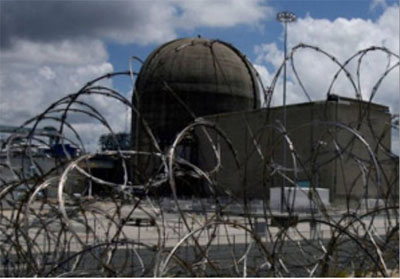 The South Texas Project nuclear power plant in Bay City./ SA
The South Texas Project, which provides about a third of San Antonio's electric power, is on a list of nuclear plants with a high risk of flooding-related failures.
A leaked July 2011 Nuclear Regulatory Commission report labeled "not for public release" deals with flood risk to plants across the country if dams break upstream.
---
September 7 2012
Japan utility agrees nuclear crisis was avoidable
TOKYO (AP) — The utility behind Japan's nuclear disaster acknowledged for the first time Friday that it could have avoided the crisis.
Tokyo Electric Power Co. said in a statement that it had known safety improvements were needed before last year's tsunami triggered three meltdowns, but it had feared the political, economic and legal consequences of implementing them.
"When looking back on the accident, the problem was that preparations were not made in advance," TEPCO's internal reform task force, led by company President Naomi Hirose, said in the statement. "Could necessary measures have been taken with previous tsunami evaluations? It was possible to take action" by adopting more extensive safety measures, the task force said.
The task force said TEPCO had feared efforts to better protect nuclear facilities from severe accidents such as tsunamis would trigger anti-nuclear sentiment, interfere with operations or increase litigation risks. TEPCO could have mitigated the impact of the accident if it had diversified power and cooling systems by paying closer attention to international standards and recommendations, the statement said. TEPCO also should have trained employees with practical crisis management skills rather than conduct obligatory drills as a formality, it said.
---
Greg Palast: Fukushima Texas
| | |
| --- | --- |
| | An excerpt from his great book – Vultures' Picnic, In Pursuit of Petroleum Pigs, Power Pirates, and High-Finance Carnivores |
September 7 2012

Two-year hiatus in US licensing
Approval of four new reactors could be delayed as the US Nuclear Regulatory Commission reconsiders its confidence in long term waste management arrangements over the next 24 months.
The NRC has to develop an environmental impact statement on the storing of used nuclear fuel at power plant sites for extended periods, which will form part of a new 'waste confidence rule' fundamental to power plant licensing. The previous rule was invalidated in June by the Court of Appeals for the District of Columbia, which said the NRC should have considered the possiblity that a permanent waste disposal facility might never actually be built, as well as more factors relating to potential water leaks or fires at storage pools.
---
Sept. 4, 2012
Foreign Ownership Could Halt Licensing of South Texas Project Nuclear Reactors; NRC Decision to Deny a License for Calvert Cliffs Bodes Well
Austin, Texas On Thursday, the Nuclear Regulatory Commission denied an operating license to Unistar Nuclear Energy for its planned third reactor at Calvert Cliffs in Maryland because it is fully owned by France's Électricité de France (EDF)-a foreign entity. Federal law prohibits a foreign entity from completely owning or controlling a U.S. nuclear plant. The company was given 60 days to find a U.S. partner, which it has been unable to do in the past two years, and if it fails to do so the license application will be fully terminated.
Read more…
---
August 22, 2012
Nuclear power requires Uranium mining, which threatens some Texas communities.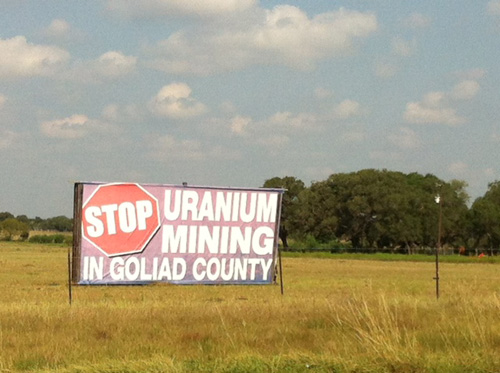 ---
August 2, 2012
Compact Commission letter – Aug. 2, 2012 and highlighted Hazardous Materials Route Registry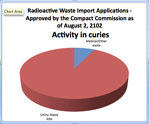 We are concerned that shipments radioactive waste to Texas are being allowed to move forward when there is still water in monitoring wells in the area of the WCS Compact Facility site. Concerns about water contamination are very real, serious enough that three TCEQ employees resigned over the issue. We also are concerned that no routes have been designated for low-level radioactive waste in Texas, although there is a legal requirement to do so. At least 12 other states have designated routes for radioactive waste.
The Registry attached to our letter shows that there are no designated routes or restricted routes for radioactive waste in Texas.