Tuesday, August 29, 2017
As Historic Flooding Grips Texas, Groups Demand Nuclear Plant Be Shut Down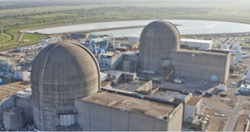 As record-breaking rainfall and unprecedented flooding continue to batter the greater Houston area and along the Gulf coast on Tuesday, energy watchdogs groups are warning of "a credible threat of a severe accident" at two nuclear reactors still operating at full capacity in nearby Bay City, Texas.
Three groups—Beyond Nuclear, South Texas Association for Responsible Energy, and the SEED Coalition—are calling for the immediate shutdown of the South Texas Project (STP) which sits behind an embankment they say could be overwhelmed by the raging flood waters and torrential rains caused by Hurricane Harvey.
---
Tuesday, August 29, 2017
Power outages add to woes in water-soaked Texas
HOUSTON — As rain continues in the wake of Tropical Storm Harvey, Texas is coping with a significant loss of electricity, even if the current outage numbers in and around America's fourth largest city aren't as large as might be expected.
And people in areas with heavy damage face the prospect of a power restoration process that could last weeks or longer.
---
Feb 10, 2017
Debate held on bringing high-level radioactive waste to west Texas
ANDREWS — Could your backyard be the new home to a nuclear waste site? Andrews is waiting to be licensed as a temporary holding site for radioactive waste.
Tom "Smitty" Smith, director of the Public Citizen's Texas office spoke to the concerns of bringing a high-level radioactive site in west Texas in a meeting Thursday.
---
February 9, 2017
Public Citizen: Andrews nuke waste site an open target for terrorism
A recent letter from Republican U.S. Rep. Mike Conaway about the proposed high-level nuclear waste storage site in Andrews has prompted Midland County Democrats to act in hopes of a better solution, and they're reaching out for help.
The Midland County Democratic Party held a press conference at the DoubleTree hotel Thursday and brought with them activist heavyweights Tom "Smitty" Smith, longtime director of Public Citizen Texas, and Karen Hadden, president of the Sustainable Energy and Economic Development Coalition, better known as SEED.
---
January 26, 2017
Community organizing meetings will be held preceding the NRC meetings. We'll post details here soon.
Statements on Radioactive Waste risks and NRC docketing the WCS application
The NRC announced today that they've docketed the application from Waste Control Specialists for a consolidated radioactive waste storage in Andrews, TX. The NRC will accept public comments on the scope of its Environmental Impact Statement for the application through March 13th.
SEED Coalition and Public Citizen will hold organizing meetings to help citizens prepare for the upcoming Feb. 13th and Feb. 15th NRC hearings to be held in Hobbs, New Mexico and Andrews, TX. Details are being finalized. An additional NRC hearing will be held the following week in Rockville, MD.
Karen Hadden, Director, Sustainable Energy & Economic Development (SEED) Coalition 512-797-8481, karendhadden(at)gmail.com:
"WCS" plan to import the most dangerous of all radioactive waste and dump it on poor communities on the Texas/New Mexico border represents environmental injustice and poses risks of accidents and terrorism and potential contamination along the transport routes throughout the country. The WCS location is close to the Ogallala Aquifer, the nation's largest aquifer, that lies beneath eight states. A single train car load with dry casks of radioactive waste would contain as much plutonium as the bomb dropped on Hiroshima. The waste should remain secured in place until a scientfically viable isolation system for permanent disposal can be designed and built.
---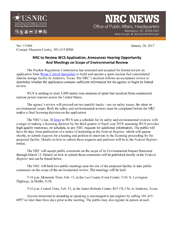 January 26, 2017
Nuclear Regulatory Commission – Press Release
No: 17-004 January 26, 2017
Contact: Maureen Conley, 301-415-8200
The Nuclear Regulatory Commission has docketed and accepted for formal review an application from Waste Control Specialists to build and operate a spent nuclear fuel consolidated interim storage facility in Andrews, Texas. The NRC's decision follows an acceptance review to determine whether the application contains sufficient information for the agency to begin its formal review.
WCS is seeking to store 5,000 metric tons uranium of spent fuel received from commercial nuclear power reactors across the United States.
---
February 3, 2017
Plan to bring high-level nuclear waste to West Texas gains steam
Federal regulators will begin a series of public meetings this month after formally accepting Waste Control Specialists' application last week to begin storing spent nuclear fuel at a dump in Andrews County.
The approval was expected — WCS notified the Nuclear Regulatory Commission nearly two years ago of the company's plans before filing the application in April. But the detailed review the NRC will now begin comes at a time when the company is poised to gain an ally in former Gov. Rick Perry, who awaits confirmation as energy secretary.
---
NOV. 18, 2016
Feds sue to block acquisition of Dallas radioactive waste company
The U.S. Justice Department is suing to block a Salt Lake City-based company's acquisition of Waste Control Specialists, the Dallas-based company that wants to expand the nuclear waste dump it operates in West Texas.
If the $367 million merger with proposed buyer EnergySolutions goes through, it would "combine the two most significant competitors for the disposal of low level radioactive waste (LLRW) available to commercial customers in 36 states, the District of Columbia and Puerto Rico," the Justice Department said in a statement announcing the civil antitrust lawsuit.
---
Saturday, November 5, 2016
WCS: Environmental study amid application process makes sense
A quartet of environmental groups last month wrote the U.S. Nuclear Regulatory Commission in an attempt to sway the agency to dismiss Waste Control Specialists' pursuit of temporarily storing high-level nuclear waste in Andrews County, where it currently has a facility to permanently store low-level nuclear waste, according to a recent Houston Chronicle report.
---
Letter to NRC Regarding WCS Waste Storage Facility
October 27, 2016
Victor M. McCree, Executive Director for Operations
U.S. Nuclear Regulatory Commission
Washington, D.C. 20555
By e-mail to victor.mccree@nrc.gov
SUBJECT: WCS License Application for Spent Fuel Storage Facility
In Andrews County, TX, Docket No. 72-1050
Dear Mr. McCree:
On behalf of Beyond Nuclear, Nuclear Information and Resource Service, Public Citizen, Inc., and SEED Coalition, we are writing to ask you to immediately order the dismissal of Waste Control Specialists, L.L.C.'s ("WCS") application for a license for a consolidated interim spent fuel storage facility ("CISF") in Andrews County, Texas, because the terms under which WCS seeks a license for the Andrews County facility are precluded by the Nuclear Waste Policy Act of 1982, as amended ("NWPA").
WCS' license application, filed April 28, 2016, seeks U.S. Nuclear Regulatory Commission ("NRC") approval to build and operate a storage facility for up to 5,000 metric tons ("MT") of spent fuel at the Andrews County site. WCS also anticipates expanding the capacity of the faciliy to 40,000 MT through subsequent license amendments. Environmental Report at 1-1. NRC recently informed WCS that it has embarked on an environmental review of the WCS' licence.
---
April 28, 2016
For Immediate Release
April 28, 2016
Contacts:
Karen Hadden, SEED Coalition, 512-797-8481
Tom "Smitty" Smith, Public Citizen, 512-797-8468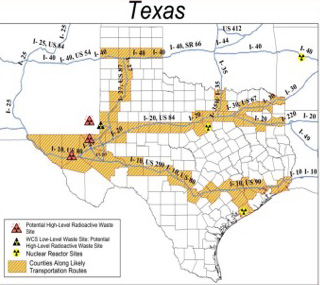 High-Level Radioactive Waste is High-Risk
Radioactive Waste Risks include Accidents and Sabotage
(Austin) A high-level consolidated radioactive waste storage site has been proposed for Andrews County, Texas, by Waste Control Specialists (WCS). The company expects to submit a license application to the Nuclear Regulatory Commission (NRC) this week and to have licensing and construction completed by the end of 2020.
"This plan is all risk, not only for the states of Texas and New Mexico, but for the whole country and it should be halted immediately," said Tom "Smitty" Smith, director of Public Citizen's Texas Office. "Why is our region being targeted to become the nation's dumping ground for high-risk high-level radioactive waste? Putting this waste on our highways and railways invites disaster. Radioactive waste moving through highly populated cities across the country could be targeted for sabotage by terrorists." A state report, the Assessment of Texas' High-Level Radioactive Waste Storage Options, says that "spent nuclear fuel is more vulnerable to sabotage or accidents during transport than in storage because there are fewer security guards and engineered barriers, and that the consequences could be higher since the waste could travel through large cities." Read the full press release….
---
What Could Go Wrong
Deadly High-Level Radioactive Waste: Health and Safety Concerns About Storage and Disposal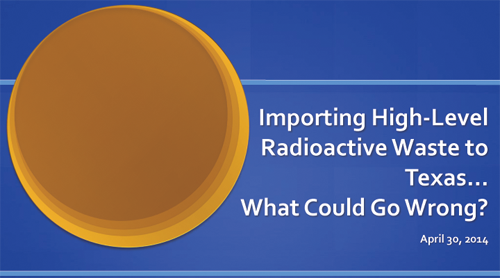 Austin, TX – A nuclear expert, a medical doctor, and an attorney joined public interest advocates to address the health and safety risks of bringing the hottest of nuclear reactor waste, the spent nuclear fuel rods, to Waste Control Specialists' (WCS) dump in Andrews County, Texas or another Texas site. The legal issues involved were discussed as well.
Governor Perry and Speaker Straus are pushing consideration of importing dangerous radioactive waste for storage and possibly disposal in Texas, and the House Environmental Regulation Committee will hold a hearing on the issue in the near future.
Related material:
---
Examining the fallout from Texas nuclear waste proposal
Texas House Speaker Joe Straus recently raised eyebrows among environmentalists and individuals connected to the nuclear waste industry. Unexpectedly opening the possibility of making Texas home to America's supply of high-level radioactive waste will do that.
The United States lacks a permanent disposal site for 68,000 metric tons of spent nuclear fuel after the Obama administration decided in 2010 to halt funding for the multimillion-dollar Yucca Mountain geologic repository in Nevada. Straus has instructed legislators to determine whether Texas can be the answer and "make specific recommendations on the state and federal actions necessary to permit a high-level radioactive waste disposal or interim storage facility in Texas."
Read more…
Related WIPP Material:
News Stories:
---
Greg Palast: Fukushima Texas
| | |
| --- | --- |
| | An excerpt from his great book – Vultures' Picnic, In Pursuit of Petroleum Pigs, Power Pirates, and High-Finance Carnivores |
---
August 22, 2012
Nuclear power requires Uranium mining, which threatens some Texas communities.