NOV. 18, 2016
Feds sue to block acquisition of Dallas radioactive waste company
The U.S. Justice Department is suing to block a Salt Lake City-based company's acquisition of Waste Control Specialists, the Dallas-based company that wants to expand the nuclear waste dump it operates in West Texas.
If the $367 million merger with proposed buyer EnergySolutions goes through, it would "combine the two most significant competitors for the disposal of low level radioactive waste (LLRW) available to commercial customers in 36 states, the District of Columbia and Puerto Rico," the Justice Department said in a statement announcing the civil antitrust lawsuit.
---
Saturday, November 5, 2016
WCS: Environmental study amid application process makes sense
A quartet of environmental groups last month wrote the U.S. Nuclear Regulatory Commission in an attempt to sway the agency to dismiss Waste Control Specialists' pursuit of temporarily storing high-level nuclear waste in Andrews County, where it currently has a facility to permanently store low-level nuclear waste, according to a recent Houston Chronicle report.
---
Letter to NRC Regarding WCS Waste Storage Facility
October 27, 2016
Victor M. McCree, Executive Director for Operations
U.S. Nuclear Regulatory Commission
Washington, D.C. 20555
By e-mail to victor.mccree@nrc.gov
SUBJECT: WCS License Application for Spent Fuel Storage Facility
In Andrews County, TX, Docket No. 72-1050
Dear Mr. McCree:
On behalf of Beyond Nuclear, Nuclear Information and Resource Service, Public Citizen, Inc., and SEED Coalition, we are writing to ask you to immediately order the dismissal of Waste Control Specialists, L.L.C.'s ("WCS") application for a license for a consolidated interim spent fuel storage facility ("CISF") in Andrews County, Texas, because the terms under which WCS seeks a license for the Andrews County facility are precluded by the Nuclear Waste Policy Act of 1982, as amended ("NWPA").
WCS' license application, filed April 28, 2016, seeks U.S. Nuclear Regulatory Commission ("NRC") approval to build and operate a storage facility for up to 5,000 metric tons ("MT") of spent fuel at the Andrews County site. WCS also anticipates expanding the capacity of the faciliy to 40,000 MT through subsequent license amendments. Environmental Report at 1-1. NRC recently informed WCS that it has embarked on an environmental review of the WCS' licence.
---
April 28, 2016
For Immediate Release
April 28, 2016
Contacts:
Karen Hadden, SEED Coalition, 512-797-8481
Tom "Smitty" Smith, Public Citizen, 512-797-8468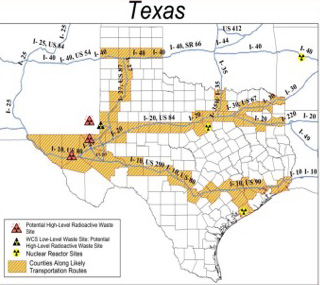 High-Level Radioactive Waste is High-Risk
Radioactive Waste Risks include Accidents and Sabotage
(Austin) A high-level consolidated radioactive waste storage site has been proposed for Andrews County, Texas, by Waste Control Specialists (WCS). The company expects to submit a license application to the Nuclear Regulatory Commission (NRC) this week and to have licensing and construction completed by the end of 2020.
"This plan is all risk, not only for the states of Texas and New Mexico, but for the whole country and it should be halted immediately," said Tom "Smitty" Smith, director of Public Citizen's Texas Office. "Why is our region being targeted to become the nation's dumping ground for high-risk high-level radioactive waste? Putting this waste on our highways and railways invites disaster. Radioactive waste moving through highly populated cities across the country could be targeted for sabotage by terrorists." A state report, the Assessment of Texas' High-Level Radioactive Waste Storage Options, says that "spent nuclear fuel is more vulnerable to sabotage or accidents during transport than in storage because there are fewer security guards and engineered barriers, and that the consequences could be higher since the waste could travel through large cities." Read the full press release….
---
June 21, 2016
PG&E to close Diablo Canyon, California's last nuclear power plant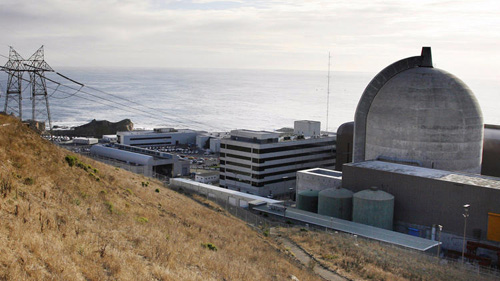 Pacific Gas & Electric's Diablo Canyon plant near Avila Beach has California's last operating nuclear reactors. (Michael Mariant / Associated Press)
One of California's largest energy utilities took a bold step in the 21st century electricity revolution with an agreement to close its last operating nuclear plant and develop more solar, wind and other clean power technologies.
The decision announced Tuesday by Pacific Gas & Electric Co. to close its beleaguered Diablo Canyon nuclear plant within the next decade runs counter to the nuclear industry's arguments that curbing carbon emissions and combating climate change require use of nuclear power, which generates the most electricity without harmful emissions.
---
November 30, 2015
Editorial The solution to storing San Onofre's spent nuclear fuel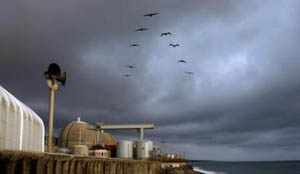 No one really likes the idea of storing spent nuclear fuel rods at the edge of the mighty Pacific Ocean, even if they are sealed in stainless steel canisters, encased in concrete and partially buried. What would happen to the millions of people living within 50 miles, or the Pacific's marine life, if there were a leak or an accident? What would happen if California were hit with a tsunami like the one that caused the Fukushima Daiichi nuclear power plant disaster in Japan in 2011?
This is the sort of fearful speculation that has emerged since Southern California Edison revealed its plan to store spent fuel rods from the decommissioned San Onofre Nuclear Generating Station on the power plant's grounds rather than at a federally approved nuclear waste disposal site. The reason: No such facility exists. You can thank the federal government, and Sen. Harry Reid (D-Nev.) in particular, for that.
---
November 2, 2015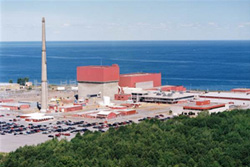 Entergy Announces Second Nuclear Plant Closure in Less Than a Month
SCRIBA, N.Y. — Entergy Corp. says it plans to close the James A. FitzPatrick nuclear power plant on Lake Ontario.
The company announced the move Monday and says the decision is based on the deteriorating economics of the facility — reduced plant revenues due to low natural gas prices, poor market design and high operational costs.
---
Entergy Announces Second Nuclear Plant Closure in Less Than a Month
SCRIBA, N.Y. — Entergy Corp. says it plans to close the James A. FitzPatrick nuclear power plant on Lake Ontario.
The company announced the move Monday and says the decision is based on the deteriorating economics of the facility — reduced plant revenues due to low natural gas prices, poor market design and high operational costs.
---
September 17, 2015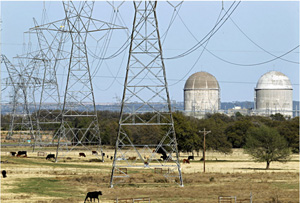 Judge clears Energy Future to move ahead on selling Oncor to Hunts
WILMINGTON, Del. — Almost 18 months after filing for bankruptcy, Texas' largest power operator Energy Future Holdings was cleared Thursday to move ahead on its plan to break up the company and settle its $40 billion in debts.
With hopes of getting out of court by spring, Energy Future plans to hand its power plants and the retail business TXU Energy to senior creditors, while the transmission business Oncor will be sold to a group led by Dallas billionaire Ray L. Hunt.
It was a quiet conclusion to what had the makings of a potentially high-stakes showdown between Energy Future and an aggressive group of creditors arguing the current restructuring plan is unlikely to succeed. By the time teams of dark-suited attorneys made their way into court Thursday morning though, the two sides had agreed to a temporary truce.
---
June 19, 2015
Culberson County Supports Nuclear Waste Plan, Judge Says

Though he said he is not prepared either to "rubber stamp" the proposal or to "veto it immediately," Culberson County Judge Carlos Urias said Monday (June 15) that he believes a majority of elected officials and county residents support a plan to make the county the destination for the nation's spent nuclear fuel.
Urias said that he thinks a majority of commissioners would vote to support the radioactive-waste proposal now – but that Culberson County officials remain in an "information-gathering" mode. He said he would likely bring the matter before commissioners in August.
"Being rural, we don't have too many opportunities for new businesses," Urias said. "There are benefits in terms of jobs and tax revenues. When you mention 'nuclear,' there are concerns – I understand that.
---
What Could Go Wrong
Deadly High-Level Radioactive Waste: Health and Safety Concerns About Storage and Disposal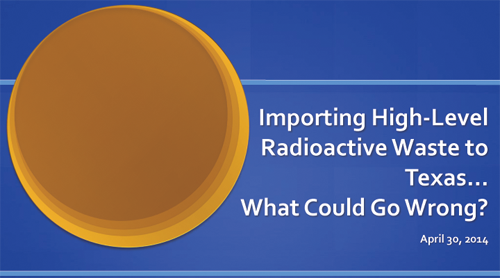 Austin, TX – A nuclear expert, a medical doctor, and an attorney joined public interest advocates to address the health and safety risks of bringing the hottest of nuclear reactor waste, the spent nuclear fuel rods, to Waste Control Specialists' (WCS) dump in Andrews County, Texas or another Texas site. The legal issues involved were discussed as well.
Governor Perry and Speaker Straus are pushing consideration of importing dangerous radioactive waste for storage and possibly disposal in Texas, and the House Environmental Regulation Committee will hold a hearing on the issue in the near future.
Related material:
---
Examining the fallout from Texas nuclear waste proposal
Texas House Speaker Joe Straus recently raised eyebrows among environmentalists and individuals connected to the nuclear waste industry. Unexpectedly opening the possibility of making Texas home to America's supply of high-level radioactive waste will do that.
The United States lacks a permanent disposal site for 68,000 metric tons of spent nuclear fuel after the Obama administration decided in 2010 to halt funding for the multimillion-dollar Yucca Mountain geologic repository in Nevada. Straus has instructed legislators to determine whether Texas can be the answer and "make specific recommendations on the state and federal actions necessary to permit a high-level radioactive waste disposal or interim storage facility in Texas."
Read more…
Related WIPP Material:
News Stories:
---
Greg Palast: Fukushima Texas
| | |
| --- | --- |
| | An excerpt from his great book – Vultures' Picnic, In Pursuit of Petroleum Pigs, Power Pirates, and High-Finance Carnivores |
---
August 22, 2012
Nuclear power requires Uranium mining, which threatens some Texas communities.