Radioactive Risks of the
Andrews County Nuclear Waste Dump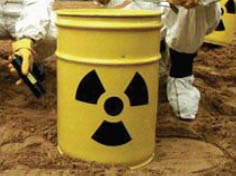 Media Advisory
For Immediate Release: March 4, 2009
Contacts:
Diane D'Arrigo 202-841-8588 NIRS
Karen Hadden 512-797-8481 SEED Coalition

WHAT: Press Conference discussing the numerous risks to our health and environment from the Andrews County nuclear waste dump and what can be done about it.
WHEN: Friday, March 6th at 10 AM
WHERE: MCM Elegante Hotel, Jamaican Room
5200 E. University Blvd.
Odessa, TX (432-368-5885)
WHO:
Diane D'Arrigo, Nuclear Information and Resource Service (NIRS)
Karen Hadden, Sustainable Energy and Economic Development (SEED) Coalition
WHY: The permit for the Andrews County ""low-level"" radioactive waste dump has been approved by the Texas Commission on Environmental Quality (TCEQ), but the decision will be appealed. Citizens need to know what they can still do to protect their land and lives.