Is This Nuclear Plant Safe?
Anonymous photographs raise new alarms about the Vermont nuclear reactor.
Valley Advocate Editorial
September 06, 2007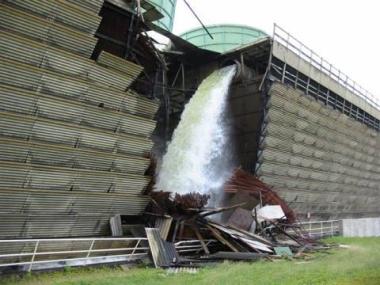 This picture was taken by an anonymous photographer on or after August 21, when this cooling tower at the Vermont Yankee nuclear power plant near Brattleboro collapsed, spewing water that was supposed to cool the plant's reactor.
Days later, on Friday, August 30, plant technicians got another evil surprise: the plant went into automatic shutdown while they were testing a turbine valve.
Vermont Yankee, now 35 years old, puts out 610 megawatts of power, nearly 120 percent of the output rate it was designed for, and its owners, Entergy Nuclear of Mississippi, have applied for its license to be extended until 2032, 20 years past its current expiration date of 2012. The New England Coalition, a nukewatching organization based in southern Vermont, has warned for years that the plant is like an old car being souped up and driven at excessive speeds. The cooling system in particular has been the subject of much concern. After the tower partly disintegrated, the Vermont Congressional delegation called for the Nuclear Regulatory Commission to do an exhaustive investigation of the condition of all the cooling towers at the plant.
The Vermont state Legislature is worried as well. Its members are asking the same question as antinuclear activists: if this could happen after Entergy conducted and documented inspections of the towers, what other structural flaws at the plant may have gone without being detected when inspections were done?
While Entergy dwells on the fact that the tower collapse per se wasn't a threat to the public health, others-especially those who remember the transformer fire that broke out three years ago-say that's not the point; the danger is that the inspection system is untrustworthy and the company has a demonstrated inability to keep the plant properly maintained and functioning.
"Even with the inspections, the tower failed," said Deb Katz, executive director of Franklin County-based Citizens Awareness Network. "That's what this is about. This is wood. You notice wood rotting."
In the aftermath of the collapse of the tower, the NRC has admitted that the application process for the plant's license extension may be delayed. Until now the NRC seemed to be on a steady march toward approval of that extension, but the cooling tower collapse-which is difficult to minimize with the anonymous photos circulating on the Internet-has clearly put a large rock in what appeared to be a clear road to license extension approval for Entergy.
If you want your Congressman to hear your reaction to a picture of a nuclear power plant's cooling tower falling apart like an old garage, call the Capitol operator in Washington at 202-224-3121, ask for his office and tell him what he needs to know. Or call the NRC's public affairs officer on this case, Neil Sheehan, at 610-337-5331.