CPS and climate politics: By the numbers
3/30/2009
Greg Harman
San Antonio Current Queblog
CPS has spent $91,000 fighting global warming solutions
As Washington strains under the weight of industry and environmental lobbyists seeking to influence the outcome of what would be our first national climate bill, CPS Energy has been quietly working the angles on Capitol Hill to keep the coal power the city has come to rely on cheap for consumers in the short term. So-called "cheap" power is the mandate the utility operates under, after all.
Too bad that mandate is now at odds with the survival of the earth as we know it and, quite possibly, our survival as a city and a nation.
The most recent peer-reviewed science on global warming has found that due to the build-up of greenhouse emissions in the atmosphere we are already locked into unavoidable "permanent" drought across the Southwest and through Central America, as well as a complete redefinition of global coastlines by one or two meters (Check out "Last Chance for a Slow Dance" to get the background here). However, measured against the findings of the International Panel on Climate Change, we have limited amount of time to change course - only until 2014 to level off greenhouse emissions, for instance.
Responding to an Open Records request submitted by the Current, a CPS Energy legal staffer wrote that the City-owned utility has spent $91,700 lobbying in the past year "in the attempt to influence U.S. climate policy."
According to Zandra Pulis, senior legal counsel at CPS, the utility has also spent about $67,657 in membership dues to the Climate Policy Group, an industry group it joined in September of 2006 that lobbies Congress against limiting carbon emissions under cap-and-trade legislation. An effort that, to this point, has been remarkably successful
.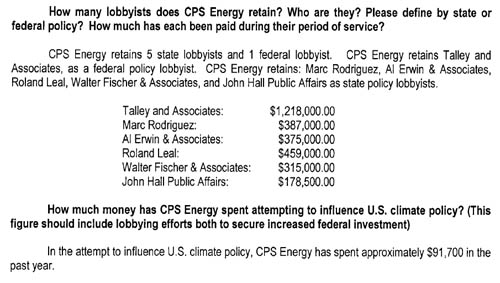 Those of you CPS watchers out there should know that the utility's membership with the politico-industry group Nuclear Energy for Texans is granted free of charge and no City donations to the group have, as yet, been made.
All told, CPS has spent $2.56 million on lobbyists (since 1999) working the statehouse and the Capitol, according to Pulis.
When it comes to running PR for CPS and the two-reactor South Texas (Nuclear) Project they want to expand by two, give us a few hours and then refresh your screen. My esteemed colleague Gilbert Garcia has that in the pipe as we speak.
Posted by gharman on 3/30/2009