NRG Energy Sets Up an Entity to Build Nuclear Plants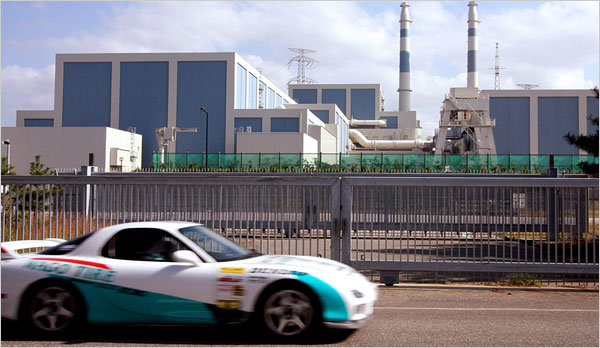 Haruyoshi Yamaguchi/Bloomberg News
NRG Energy wants to build an advanced boiling water reactor similar to this one run by Hokuriku Electric Power in Japan.
By MATTHEW L. WALD
Published: March 26, 2008
A second company planning to build nuclear plants has established a partnership with a reactor vendor to play a major role in building reactors around the United States.
NRG Energy, based in Princeton, N.J., which wants to build two reactors adjacent to the South Texas Project, 90 miles from Houston, said it had established a company, Nuclear Innovation North America, to market, develop, finance and invest in reactors.
Toshiba, which makes the reactor that NRG wants to build, will invest $300 million, half for the South Texas Project reactors and half for development of additional reactors in North America, NRG said. Toshiba will get a 12 percent stake in Nuclear Innovation.
"This is Toshiba putting their money where their mouth is," said David Crane, the chief executive of NRG.
Toshiba builds a reactor initially designed by General Electric, called an advanced boiling water reactor. The Nuclear Regulatory Commission approved the design in the 1990s, and last September, NRG asked the commission for approval to build in Texas.
The company later asked for part of its application to be held in abeyance, and Mr. Crane said Tuesday that it would be amended to make the South Texas proposal identical to Toshiba projects already operating in Japan. In addition, he said, the design approved by the commission included a control room using computers of mid-1990s vintage, so various changes would be needed.
The industry and the government are struggling to develop standard designs that can be reproduced economically. Design variations among the approximately 125 reactors that eventually entered commercial operation contributed to huge cost overruns and operating difficulties; scores more were canceled.
The idea behind Nuclear Innovation is that Toshiba will function as the prime contractor, with the owners gaining the benefit of the Japanese company's experience. Toshiba has committed to building two twin-unit reactor projects in addition to the South Texas project, NRG said.
In 2005, Constellation Energy formed a partnership with Areva, a French-owned nuclear company, to build one reactor of Areva's design for Constellation, and then additional reactors with other utility partners. The joint company, UniStar Nuclear, would operate the reactors once they were completed. The French national utility, Electricite de France, later bought into the partnership. One reactor of Areva's design is under construction in Finland, and another is planned in France.
Mr. Crane, in a phone interview Monday, said the Energy Policy Act of 2005 had provided loan guarantees, production tax credit and some risk insurance for new plants. But, he said, "the one principal risk you cannot lay off is who's going to build this thing on time and on budget."
Referring to the South Texas reactors, he said, "On an $8 billion project, even if it is 80 percent debt, that still leaves $1.6 billion of equity, and people aren't going to risk the $1.6 billion unless you find someone who says, 'I'll build that, for X million and in Y months.' "